Sailor Moon Sailor Stars Part 1 was released on DVD and Blu-Ray June 18th but some fans were not pleased with what they got! A relationship chart found in the booklet which is included in the Limited Edition Blu-Ray set refers to Sailor Uranus and Neptune as having a "Friendship". This was noted by some fans including Erica Friedman of Okazu who wrote an article about it and brought the issue up with Viz directly.
Viz Media responded fairly promptly to the concerns on Twitter and through a statement on their web site. This statement makes it clear! Sailor Uranus and Neptune aren't friends but partners (that being romantic partners and not a couple of gals selling insurance together).
Though the updated version of that statement clearly addresses the Uranus/Neptune relationship dynamic the original message is all about a problem with the "romaji" lyrics in the booklet. Upon close inspection we see that this is actually a reference to the first words of Moonlight Legend which in the English translation are not translated as "I'm sorry" but left as "Gomen-ne". This seems like a bit of a non issue all considered. In both cases we can get a bit of context if we look back at past versions of the booklet. supersonicjc did some investigation of earlier versions and found that the lyrics issue had been there since the first season. Looking at past relationship charts and the Sailor Stars chart we can see other issues which I think could use some attention.
First we can look at the Sailor Stars relationship chart and see what else is there and what else is missing. I jokingly put together an updated version of the chart (above) with all sorts of ships which I support but this wasn't meant to be anything serious. Since Usagi and Mamoru are listed as "Love" and not "Friendship" then we see that there is in fact an option for listing romantic love that is more than mere friendship. The obvious choice would be to put Haruka and Michiru with a "Love" connection. It's also a bit odd that the link is put between Sailor Guardians rather than their civilian identities, as is done with other relationships. Jokes aside there is one legitimate relationship aside from the many couples I like to ship and that is Luna and Artemis. Though their relationship was a long time coming it was first hinted at in Sailor Moon R, cemented in the Sailor Moon S film which is arguably canon and finally confirmed in Sailor Moon SuperS with the arrival of Diana. No doubt Artemis and Luna of the future are in the relationship, but I think it's safe to consider present day Luna and Artemis to have a "Love" connection as early as Sailor Moon SuperS as well as in this Sailor Stars chart.
Looking at past relationship charts we see fairly similar things. Sailor Uranus and Neptune are not in Sailor Moon SuperS and so they aren't in that chart. They are introduced in Sailor Moon S and that chart lists them not as "Friendship" or "Love" but rather as "Partners". This is technically true but they are also, obviously, much more than partners. The term "Partner" is sometimes used for gay and lesbian couples in place of gender specific terms such as "boyfriend and girlfriend" or "husband and wife" for a number of reasons. It distinguishes the platonic "I'm going out with my girlfriends" from the "I had a hot date with my girlfriend". Guy don't often use "boyfriend" in this non romantic sense but we're not talking about boys here. It's gender neutral use can also potentially mask the nature of someone's same sex relationship in a social or professional situation where it's unknown how others may feel about the term. The term "Partner" could also be preferred by some gay and lesbian couples as it sounds more serious than boyfriend or girlfriend for committed couples who due to whatever legal issues in their country may not be able to marry. So much to say the Sailor Moon S chart should have used "Love" for Sailor Uranus and Neptune as they used for Usagi and Tuxedo Mask. Why it isn't Usagi and Mamoru or Sailor Moon and Tuxedo Mask I can't say I understand. The term "Partners" is exclusively used to describe Sailor Uranus and Neptune in the Sailor Moon S chart where others who are described by the term in other charts, such as Usagi and Luna, are listed as "Friendship" on this one which was likely intentional.
Other couples listed in the Sailor Moon S chart, as well as others, are not romantically linked at all. This includes Usagi's parents Ikuko and Kenji who are only linked through their children. They are present in the Sailor Moon R, S and SuperS charts and in none of these are they shown to be in "Love" or in any way romantically involved. Naru and Umino are also in the R, S and SuperS charts. Though their relationship grows gradually throughout the series one can not deny that they are in a full on relationship in Sailor Moon S and SuperS, if not earlier, with the first indication of their romance dating back to the first season. They are linked only through mutual "Friendship" to Usagi (listed as "Best Friend" and "Friend" in Sailor Moon R) as well as mutual "Teacher/Student" links to Haruna.
There are others "Lovers" listed in the Sailor Moon R chart, a term unique to that season's chart, which includes sibling lovers An and Ail as well as Saphir and Petz. The abusive relationships such as Koan and Rubeus or Esmeraude and Demande are not reflected, which is probably for the best.
The term "Partner" which doesn't appear elsewhere on the Sailor Moon S chart also appears in many places on the Sailor Moon R chart. This includes Luna and Usagi, Luna and Artemis as well as Artemis and Minako. In this sense the usage is not a romantic one, though a case could be made for two of those three couples, but rather in the sense that they are partners in their roles as superheroes.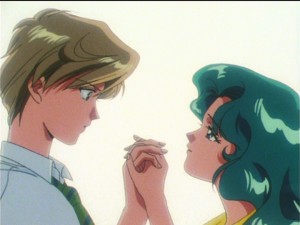 What does all of this, taken together, tell us? There are a number of relationships in the series which are not acknowledged in these charts. While I can see the concern over Haruka and Michiru's relationship being downplayed in this way, it's hard to see how it could have been deliberate "LGBTQ Erasure" as the Okazu blog post puts it, though that text does suggest that "mere lazy editorial decisions" may be the reason. The new dub of Sailor Moon, with this new Sailor Stars dub specifically having a lot of relevant dialogue, makes it very clear that these two are not just friends but lesbians in a romantic relationship. This is an older relationship in which their sexual activities are hinted at as heavily in the dub as they were in the Japanese version. It isn't something that is, or needs to be, spelled out in black and white but there's little doubt as to what is going on. As Usagi enters high school in Sailor Stars she suggest, quite awkwardly, that her and Mamoru could take things to the next level, somethings which never happens in the anime. It is clear that Haruka and Michiru already have this more mature relationship between them. Viz has generally stayed true to their commitment to portray this relationship as honestly as the source material did and this relationship chart is at odds with this. It isn't the 90s anymore and the industry and audience are more permissive about having LGBTQ characters in their fiction, for which we should all be grateful. Whatever the reason for which this occurred, we should be glad that Viz is acknowledging and correcting this oversight.
As for the song lyrics, this really seems like a non issue. If this was such a big deal would someone perhaps have caught the error the last four times these lyrics were included in a booklet? Going back to the first season we see this same error of not translating their first two words of "Moonlight Legend" occurred in every single release. I seriously doubt Viz will be going back and issuing reprints of five different booklets just because of this problem!
If you're interested in getting this set, be it the Limited Edition with this booklet or any other version, consider supporting the site by buying it through the Amazon links below.
Keep reading for more images showing the exact same lyric error with every booklet.