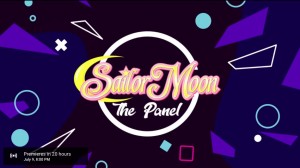 A Sailor Moon panel featuring the original English voice cast of the 90s Sailor Moon anime is going to be streamed on Friday July 9th at 8pm Easter Time. The panel will be streamed on YouTube. You can also watch it embedded below.
The panel will feature Linda Ballantyne, the third voice of Sailor Moon, Katie Griffin, the first voice of Sailor Mars, Susan Roman, the voice of Sailor Jupiter, Toby Proctor, the second voice of Tuxedo Mask, Ron Rubin, the voice of Artemis, Jill Frappier, the voice of Luna, and Barbara Radecki, the voice of Sailor Neptune as well as Serena's mother and Queen Serenity in the first episode. Watch a clip advertising the event below:
Get ready guys!!! This Friday July 9th at 8pm EST the cast of Sailor Moon will be on Geektainment TV on YouTube!! @GeektainmentTV @ronjrubin @LABallantyne @JillsObjets @barbara_radecki @tobyproctor @kissmechaos #sailormoon https://t.co/vbNhUTrTow pic.twitter.com/2cPMe5Gra0

— Celebrity Talent Booking (@CTBsocial) July 7, 2021
The panel will be hosted by Geektainment TV who have done other similar panels on their YouTube page. It is likely that the panel will continue to be available once the live event is completed. Will you be watching the panel live?