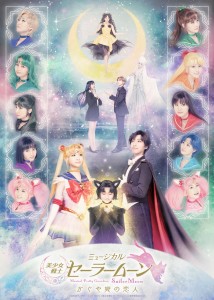 Great news for Sailor Moon fans who read English! If you're reading this site "That means you"! The most recent Sailor Moon musical, Princess Kaguya's Lover, will soon be streaming for international audiences with English subtitles by Japan 2.5D Stage Play World! Fans who missed seeing the Nogizaka46 x Sailor Moon musical earlier this year will also have a chance to stream that musical. This will take place between December 10th and February 3rd with a $20 ticket (plus a $2 service fee) allowing access to stream the new musical for a period of up to two weeks. While previously this type of event was streamed live with the option to watch for 24 hours afterwards, this new event should be better for those hoping to watch the stream more than once.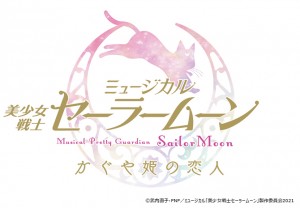 The full name of the musical being used for this event is "Pretty Guardian Sailor Moon: The Musical -Kaguya Hime's Beloved-" where "Kaguya Hime" means simply "Princess Kaguya". Japan 2.5D Stage Play World will also be streaming the Nogizaka46 x Sailor Moon musical, previously streamed on the service in August of this year, two Naruto musicals and a My Hero Academia musical. The streams will be available for periods of two weeks. Whenever someone buys a ticket during this period they will only have access to it for the remainder of that period. If you buy your ticket ahead of time you'll have it for the whole period but if you buy it late you may only have it for a day or two so plan ahead. The two week periods are as follows:
1st: December 10 (Fri) – December 23 (Thu)
2nd: December 24 (Fri) – January 6 (Thu)
3rd: January 7 (Fri) – January 20 (Thu)
4th: January 21 (Fri) – February 3 (Thu)
All in Japan Standard Time
You can buy your tickets now. I've already gotten mine for the first period.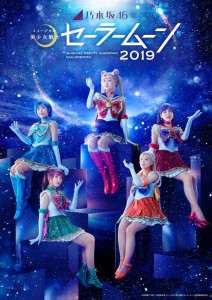 Having streamed the Nogizaka46 x Sailor Moon musical in August I have some idea of how this system will work. The stream is supported through a web browser on a computer or mobile device so I personally connected my laptop to my TV via HDMI though watching directly on a smaller screen is also an option. For the last event I watched it live at the specific advertised time as it would only be available to rewatch after the musical was completed. For this new event it seems like you should be able to stream it any time during that two week period.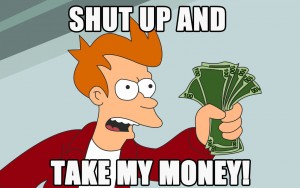 Fans of the Sailor Moon musicals who would like to see more events like this should certainly consider getting tickets for this event. This would surely encourage Japan 2.5D Stage Play World to do similar events in the future. Fans have been able to watch earlier musicals, which never had any release outside of Japan, through fan subs. This hasn't been an option for the last few musicals for a number of reasons. The case for downloading something which would never be released domestically, even if technically illegal, is something fans have justified in the past. This argument is no longer valid as we now have a company which is making these available to us. Those of us with the means to do so now have a way to support this official release. Tickets aren't cheap for what is essentially a digital rental but it's certainly reasonable considering this is a fairly niche interest and the alternatives are flying to Japan to see the musical or importing a Japanese home video release which has no English subtitles for a lot more money!
Will you be streaming this musical? If so, what period will you be getting tickets for? It is certainly fitting that fans will have the option to watch this musical during the Christmas season!