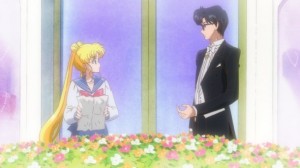 This coming Saturday, July 5th 2014, the first episode of Sailor Moon Crystal will finally be released! Earlier today, June 30th 2014, in Japan there was a premiere event where the first episode of the new Sailor Moon anime was played in celebration of Usagi's birthday. A number of screenshots of the intro and first episode have been released. Some sketchy bootlegged video of some of the episode has been leaked as well. Check out the video below for the complete intro, with the theme song Moon Pride by Momoiro Clover Z, followed by Sailor Moon's first transformation.
[The video has been set to private since this post was originally made. Check out many screenshots of the video at the bottom of this post to see images from the intro and scene from the episode]
The scene where Luna gives Usagi her broach seems to follow the same scene from the first episode of the original Sailor Moon anime very closely. It remains to be seen if the rest of the premiere episode is as similar.
Keep reading for a ton more new images and screenshots from the leaked footage.
Source: natalie.mu