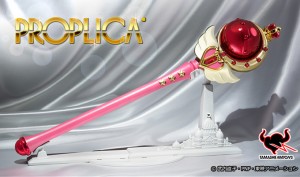 Bandai has announced the second in it's line of Proplica Sailor Moon products. The Cutie Moon Rod, the item Sailor Moon receives in Sailor Moon R, was announced earlier this month on Bandai's official Sailor Moon site and later revealed at the Tokyo Toy Show. New photos and information were recently released at the official site.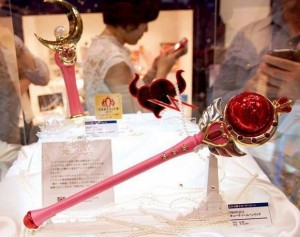 Much like the Proplica Moon Stick which has been released and that we have already reviewed, this is a life sized item, measuring 44 cm (17 inches), which looks exactly like the one used by Sailor Moon in the show. It will have lights and sounds and retail for a mere 10,000 yen (about $100 US) which is more than the Moon Stick, but understandable given how much bigger it actually is. Check out the photo above from Sailor Moon German to get a sense of it's size when placed aside the Moon Stick. Clips of such things as "Moon Princess Halation" will be voiced by Kotono Mitsuishi, the voice of Sailor Moon.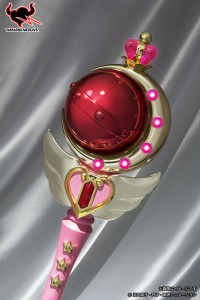 Information about how or where to buy it will be posted as it becomes available. As with the Moon Stick it will likely be available at a number of Japanese retailers and then later sold in North America. For now you can still buy the Moon Stick from the link below.
Possibly Related Posts