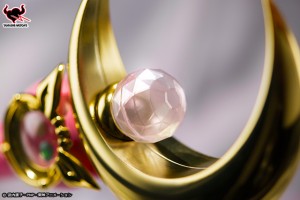 We've got a better look at the new Tamashii Nations Moon Stick toy which we now know will go on sale in Japan next April. The Moon Stick is part of the new PROLICA line which is a portmanteau of prop and replica. This very accurate looking life sized replica will retail for 8,800 yen, which is about $90 US, though you can currently preorder it from JList for $120. The crystal included is removable. There are 7 coloured LEDs on the Moon Stick and it comes with a stand for displaying.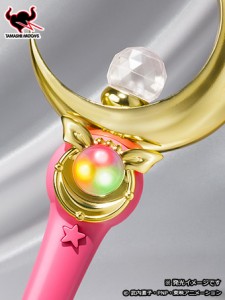 The Moon Stick includes a voice chip which will speak in the voice of Sailor Moon's voice actress Kotono Mitsuishi. With the new anime planned for January, 3 months before this toy is released, some are speculating that Kotono Mitsuishi's voice being used for this Moon Stick could mean that she will be reprising her role as Sailor Moon in the show. If a new actress was playing Sailor Moon when this toy was released it could cause confusion for this prop to have a different voice. Kotono Mitsuishi mentioned being interested in reprising her role at the 20th Anniversary Event last summer when the new anime was originally announced but we have not yet had any confirmation of any casting for the show. It's likely that this Moon Stick's design and voice are simply based off of the original anime, which the identical design certainly supports, but having not seen any art from the new anime yet it's possible the new Moon Stick will also look like this.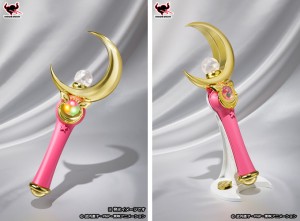 I can't stress enough that this is just speculation about casting. Once anything substantial about the new anime is confirmed we will be certain to share it on the site. Sharing information about the new Sailor Moon anime is our top priority.
Sources: Tamashi Nations, Sailor Moon Collectibles and a post by Andrew Yu on our Facebook page.
Possibly Related Posts