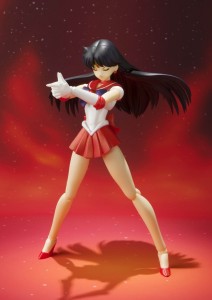 The pre-order for Bandai's Sailor Mars S. H. Figuarts figure has been available on Amazon for a few weeks now but I didn't get a chance to post about it but that's okay because it's a pre-order! The figure won't be released in North American until January 15th. You can get the figure a bit earlier if you import it from Japan but be prepared to pay for it in shipping! The figure is out on December 31st in Japan so you won't be getting it that much sooner, as compared to other figures. You can pre-order it from sites like JList, CD Japan, YesAsia or Amazon Japan.
Can't wait to get a figure? The Sailor Moon figure is actually out and you can get it now from Amazon! It's been out for a while in Japan and has just been released in North America. Many fans have already gotten their figures (mine is still in the mail) but if you didn't pre-order it you can order it now and it will ship right away. Sailor Mercury is also available for pre-order from Amazon for a December 15th release date. If you're impatient you can import the toy from sites like CD Japan or Amazon Japan and it will ship on October 31st.
We also now finally have colour pictures of the Sailor Venus figure, previously seen only as a prototype, and the Sailor Jupiter figure which we hadn't seen before. Check out this group shot from the S. H. Figuarts Sailor Moon site.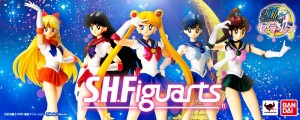 As always the Amazon links can be found on the widget on the left sidebar of the main page. If you order products through links from this site to Amazon.com we receive a small commission. Thank you for your support. We do not have affiliate programs set up with any other retailers mentioned in this post. Some links to online retailers were gathered thanks to Moonkitty.net.