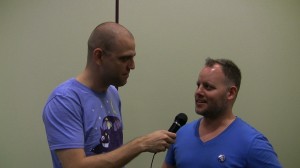 Last month at Fan Expo 2013 in Toronto I was lucky enough to catch up with Toby Proctor, the voice of Tuxedo Mask, for this interview.
Toby Proctor voiced Darien and Tuxedo Mask for most of the first two season of the English dub. He also voiced his other identities the Moonlight Night and Prince Darien.
Thanks to Toby Proctor for doing this interview. This was the third interview done at Fan Expo this year. Please check out the 20th Anniversary Cast Reunion Panel and interviews with Susan Roman, the voice of Sailor Jupiter and Linda Ballantyne, the voice of Sailor Moon.
I've received a lot of question about the shirt I'm wearing. This "Lunar Express" shirt was sold on The Yetee earlier this year. It was a limited time sale but it can still be bought from RedBubble. The shirt's artist is Machmigo.
Possibly Related Posts