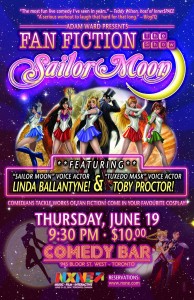 Fan Fiction is returning to Toronto and this time Linda Ballantyne, the voice of Sailor Moon, will be joining Toby Proctor, the voice of Tuxedo Mask, at this comedy special. The show takes place Thursday June 19th at 9:30pm at the Comedy Bar at 945 Bloor St. West in downtown Toronto.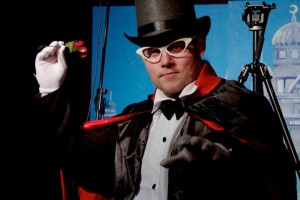 Fan Fiction The Show is a recurring comedy special that consists of a live comedic reading of Fan Fiction of one franchise or another with various comedians playing the parts of characters from these franchises. Fan Fiction The Show Sailor Moon was a great success when it first took place last July and had Toby Proctor dressed up as Tuxedo Mask for his performance. For thoughts on that check out our interview with Toby Proctor at Fan Expo 2013.
Get your tickets through NXNE. Follow Fan Fiction The Show on Facebook or Twitter to keep up with their other shows.
Possibly Related Posts