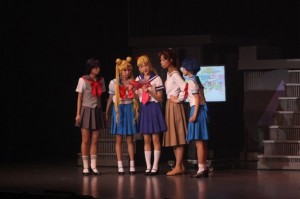 The hard working folks over at Miss Dream bring us a subtitled version of the Pretty Guardian Sailor Moon La Reconquista musical which just played in Japan. The musical was streamed online via Niconico video for some of the shows and from this streamed version an English translation was put together. You can download it from Miss Dream's Sailor Moon La Reconquista site.
The video is over two and a half hours so grab yourself some popcorn, pocky or whatever strikes your fancy and enjoy the show! We'll be sure to have a review for you in the coming days.
On the Miss Dream web site you can also find the soundtrack, audio versions of all the songs from the musical, as well as a translation of the pamphlet which was sold at the show.
Possibly Related Posts