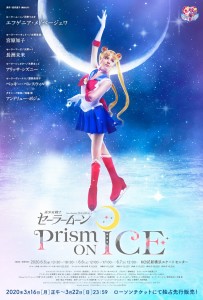 The Sailor Moon official site has been updated with the poster for the upcoming Sailor Moon Prism On Ice show. This poster gives us a look at Russian figure skater Evgenia Medvedeva as Sailor Moon. She had previously worn what appears to be the same costume at a press event last month.
We didn't get much in the way of new details. We had previously learned of the cast and schedule for the ice show, which will take place in Tokyo the weekend of June 5th to the 7th. These dates are still listed on the official site. Though June is still a few months away, it's certainly possible that this schedule will be impacted by the ongoing COVID-19 health crisis which is affecting not only Japan but countries worldwide This event includes talent from around the globe including Russia, the United States of America, Canada and of course Japan. Fans who were planning on attending may want to reconsider any international travel plans they would have had for the next few months.
It's worth noting that this event is scheduled to occur nearly two months before the original planned dates for the Tokyo 2020 Olympics, which would have taken place from July 4th to August 9th of this year, but have been delayed until 2021 due to the ongoing pandemic.
Stay safe and stay healthy!