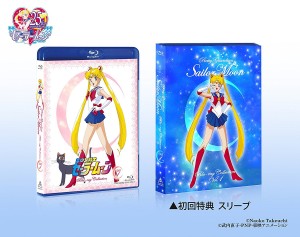 Great news for completists who want to have Sailor Moon in the best possible quality! The original 90s Sailor Moon anime is coming to Blu-Ray in Japan with the first half of season 1 coming out on June 14th 2017 and the rest of season 1 coming August 9th. These are Japanese language releases with no English audio or subtitles. Following the release of the first season Sailor Moon R and then the 3 movies will be released. These sets won't be cheap! This first volume, containing episodes 1 to 23, is being sold by Amazon Japan for 15,903 yen, about $140 US. Set 1 and set 2 are also available from CD Japan for $175 US a piece. This is also listed on the Sailor Moon 25th Anniversary page. Why, you might ask, would I buy this set when Viz already released a less expensive Blu-Ray set of the Sailor Moon anime and I can watch these episodes for free in HD on Yahoo! View? Quality! The Viz release didn't look great and to this date the Japanese region 2 DVD releases remain the gold standard of video quality. Some other international releases have been comparable in quality but nothing released in North America has really been close.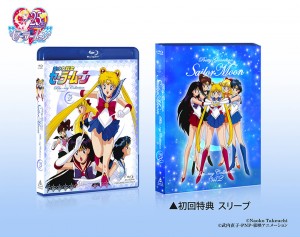 The HD version of the original Sailor Moon series has been aired on Japanese TV since April 6th 2015. Unfortunately we shouldn't expect anything too mind blowing in the way of quality. This won't look like Sailor Moon Crystal or any other recently made anime series on Blu-Ray. The product description on the Amazon Japan listing and the official site clearly state that the HD video source was upconverted from SD source material, that being a standard definition of 480 lines of horizontal resolution. What this means is that this isn't a high definition transfer of some analog film source but instead a software upgrade of the source material which had DVD equivalent resolution. This may be a practical consideration. I don't know if Sailor Moon ever existed on film or if the cels were recorded directly to standard definition video. You can't get something from nothing. While the software scaling to improve the video will likely appear nicer than anything else we've seen, it's still just software tricks to resize, resample and smooth out the picture, something that TVs and Blu-Ray players are also able to do with a good quality DVD. I don't expect this video quality to be a significant improvement to the Japanese DVDs that are already on the market, but this is always a bit subjective.
It should be noted that up until now only the first season of Sailor Moon and the movies were ever released in progressive scan (480p). Sailor Moon R, S, SuperS and SailorStars were only ever released in lower quality interlaced video (480i). These releases will almost certainly have gone through a software deinterlacing process which will make them appear nicer on a more modern flat panel display instead of the CRT TVs that were common in the 90s when Sailor Moon was originally produced. The movies may also be of a higher quality if the original film source is used. When the region 2 Japanese DVD releases of the films were released they went back to the film source to create anamorphic widescreen releases rather than using the matted standard definition source material. I'm hopeful that this release, and perhaps even the Sailor Moon R movie Viz will be releasing in April, will have a legitimate high definition transfer.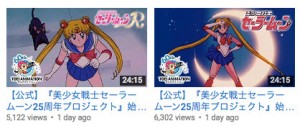 To advertise this, as part of TOEI's 60th Annivesary, the official Sailor Moon site has announced that fans in Japan can watch the first episodes of Sailor Moon and Sailor Moon R on TOIE's YouTube channel. These videos, however, are not available to view outside of Japan.
These discs appear to be free of region restrictions, meaning that they will play in any country's Blu-Ray players. Note that Japanese Blu-Ray coding is a non issue for North Americans who share region A with Japan. The lack of English, however, may be more concerning.
Do any of you moneybags have enough disposable income to justify this purchase? By this summer I'll be knee deep in diaper and formula bills but I'll likely still scrounge up the many hundreds needed to buy these sets.