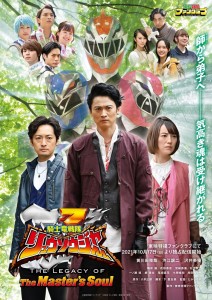 It's a live action Sailor Moon series reunion as Masaya Kikawada, Jouji Shibue and Miyuu Sawai appear on screen together in the upcoming Super Sentai prequel special "The Legacy of the Master's Soul". All three actors appeared in the live action series as Motoki, Tuxedo Mask and Sailor Moon! The three are reprising their roles as Master Red, Master Blue and Master Pink from the Kishiryu Sentai Ryusoulger series which played in Japan starting in 2019. Masaya Kikawada, Jouji Shibue and Miyuu Sawai were not usually in the same episodes however all three were on screen together in the first episode of the series.
The film, which will serve as episode 0 for the series, will be made available to the Toei Tokusatsu Fan Club on October 17th. There's currently no indication of how, if at all, the special might be made available outside of Japan. Scenes from the series were used as the basis for Power Rangers Dino Fury which aired on Nickelodeon earlier this year and is available on Netflix. No Japanese actors are seen in this version of the show as that footage is replaced with English speaking actors as is typically the case with Power Rangers series.
A trailer for the special can be seen on YouTube embedded below.
Did you watch Kishiryu Sentai Ryusoulger? If so, what did you think of these actors' performances in the series?
Source: The Tokusatsu Network