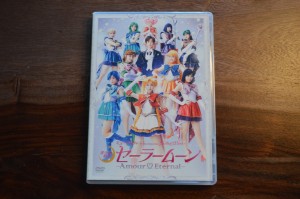 The latest Sailor Moon musical, Sailor Moon Amour Eternal, was released on DVD on March 15th. What's that? Still not on Blu-Ray? No. This is a DVD only release despite the fact that there is an HD streaming version available in Japan. The set includes two discs, the main feature and some special features, as well as a special booklet which is a sort of program. Photos of all pages of that booklet will be included at the end of this post. This is a Japanese only release so don't expect to be able to follow too well if you only speak English. Fans looking for a subtitled version of the musical should check out the fan subbed version by Miss Dream.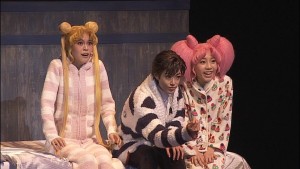 First off let's talk about the main feature, coming in at a whopping 2 hours and 43 minutes, the 4th of the recent wave of Sailor Moon musicals, Sailor Moon Amour Eternal. This was a decent musical with the most notable change to me being the inclusion of the birth of Princess Serenity back in the days of Silver Millennium. We never got much about this time of her life in other series and it's interesting to see the other Sailor Guardians fully grown at this time in this particular continuity. The main cast of the 5 actors playing Sailor Moon, Mercury, Mars, Jupiter and Venus were replaced for this musical. They will all be returning for this Fall's upcoming musical.
The bad part about this release is sadly the terrible video quality. As with the three prior releases this DVD is 480i video. What this means specifically is that it's interlaced video, something like the signal we'd get for a standard definition TV broadcast or VHS tape. Oddly the release is still 16:9 widescreen optimized for widescreen displays but somehow not optimized for a progressive scan display, which is what almost everyone would be watching this on. For prior releases I gave Evil Line Records the benefit of the doubt, assuming the release was of low quality due to older cameras used for the recording. Now that we've seen 1080p HD releases available to stream in Japan for not only this musical but the last three, it is obvious that this is not the case. This DVD is poorly authored and the company that released it is to blame. Just look at the comparison screenshot between the download version and the DVD version to see the drastic difference in quality. Even if a Blu-Ray release was not viable, a progressive scan release has been the standard for movies released on DVD for nearly 20 years. Many older TV shows are released interlaced simply because that was the limitation of TV at the time but even most early DVDs of movies are progressive scan. No excuses for this one.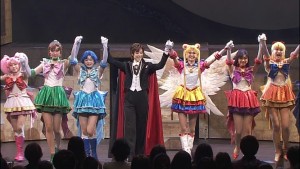 Also included with the main feature is a full length audio commentary! This includes the main cast of Hotaru Nomoto, Sailor Moon, Yume Takeuchi, Sailor Mercury, Karen Kobayashi, Sailor Mars, Kaede, Sailor Jupiter, and Rimo Hasegawa, Sailor Venus
The second disc includes over an hour of special features which aren't terribly appealing. We start out with a 30 minute interview between Hotaru Nomoto, who played Sailor Moon, and Yuga Yamato, who played Tuxedo Mask. As I don't speak Japanese I can't really elaborate on the actual content.
Next is a stage presentation for a Birthday Night special event, likely held on Usagi's birthday of June 30th. This is only a few minutes long.
We then have over half and hour of video showing the recording of the audio commentary. Here we get a picture in picture view of the musical with the five cast members giving their thoughts. Not terribly useful to those who would also watch the entire commentary.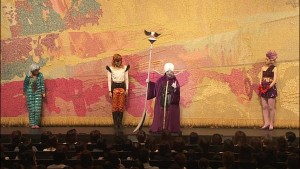 Finally we have an alternate take of the Amazon Trio talking with the audience during the intermission. This one is from the November 6th show. Since these involve audience interactions the intermission for each show would be unique.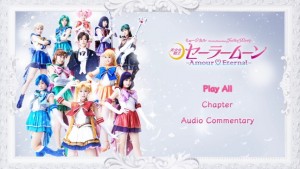 A note about the various menus on both discs! They use a hilariously cheesy Comic Sans font. Comic Sans is the kiddy or comic style font that you'll see in a lot of older web sites or perhaps some that are just a little cheap. Over the years it's gotten a reputation for bad design. In this DVD's defense however let's remember that in Japan Comic Sans wouldn't have the same reputation. I would simply ask our native English speaking fans, what kind of font is any Japanese text written in? Would you be able to tell a fancy and trendy Japanese font vs. a cheap and dated one? Not likely.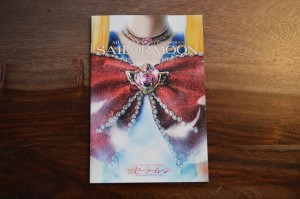 Also included is a 20 page booklet which is similar to what you might see in the program sold with the musical. This includes bios for the characters and the lyrics for all songs.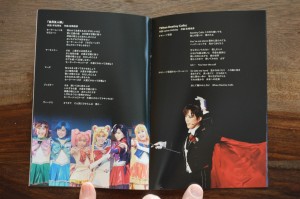 That's about it. Is this worth it? Costing the equivalent of over $50 US and having abysmal video quality and some fairly lack luster extras this release isn't terribly appealing to fans who might not actually speak the language. It really would have been nice if this physical release was at least of equivalent or comparable in quality to the relatively cheap digital copies which are available for a fraction of the price in Japan. All said I can't really recommend buying this, but hard core fans might want to anyway!
Keep reading for more images of the box art, menus and photos of all pages of the included special booklet.