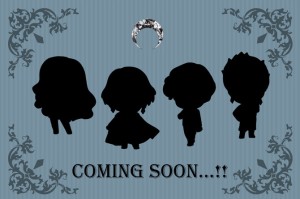 We've already gotten Petit Chara figures for the Ayakashi Sisters and now we're getting some for the rest of the Black Moon Clan. This photo, posted to the official Sailor Moon site, clearly shows silhouettes for Esmeraude, Prince Demande, Saphir and Rubeus. The image also includes the inverse crescent moon characteristic of the Black Moon Clan.
There isn't much in the way of detail posted but it is mentioned that this set follows the Ayakashi Sisters leaving little doubt as to what these are. These puzzles are about as difficult to solve as your average "Who's that Pokémon?" bumper.
Support the site by buying some of the previously released Petit Chara figures using the links below.