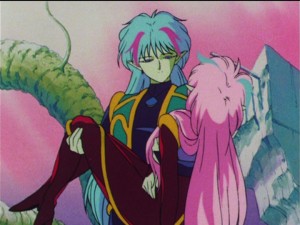 This week's new episodes of Sailor Moon R on Hulu and Neon Alley end one arc and start another. We see the last of Ail, An, the Makaiju and the Moonlight Knight in episode 59 and we see the introduction of Chibiusa and the Black Moon Clan in episode 60. As with every week these two new episodes are in Japanese with English subtitles by Viz.
Episode 59, True Love Awakens: The Makai Tree's Secret, wraps up the story of the Ail and An. The seemingly evil tree has trashed a building and is attacking everything. It kills An, causing her and Ail to realise how much they love each other, but is then cut short of killing Ail too when it hears Sailor Moon's call to stop. The Makaiju communicates and tells us it's origin story. Ail and An were part of a species of aliens born from the tree on a distant planet. They are seen coming from the same pod, which means they are not only siblings but in a way twins. What a scandalous Luke and Leia twincest affair they have! The aliens fought for the tree but it turned out it was love that nourished it! What a hilarious misunderstanding that resulted in many deaths and injuries. We then learn the true identity of the Moonlight Knight. Who knew he was actually Mamoru? But wait… how are they always seen together? The Moonlight Knight is just a spirit born from Mamoru's desire to protect Usagi despite his blocked memories. Sailor Moon heals the tree, leaving nothing but a little sprout. An is revived and her and Ail go off to live in the lonely depths of space. This concludes the Makaiju story arc. Fans have mixed feelings on these episodes but I always thought they were fantastic.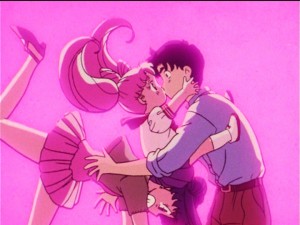 Episode 60, Angel or Devil? the Mysterious Girl from the Sky, introduces us to Chibiusa! Usagi and Mamoru are very briefly happy in this episode as they share their first consensual kiss! The only time they actually kissed in the first season was when Mamoru took advantage of an unconscious Sailor Moon who was unable to consent. Once their past lives were revealed Tuxedo Mask was injured and wisked away to be made evil. Since Usagi didn't kiss his dead body and didn't get any action while his memories were blocked, this is the first kiss they actually exchange. Not content to keep them together their happiness is soon thwarted by Chibiusa who literally falls from the sky kissing Mamoru. She then pulls a gun on Usagi in a hilarious scene. Chibiusa proceeds to brainwash everyone into thinking she's Usagi's cousin after which Usagi gets her revenge by spanking her. So what is this girl's secret? Surely by now most people know the full story but unlike the secret identity of Princess Serenity or The Moonlight Knight, this one isn't terribly obvious from the beginning. The Black Moon Clan also show up this week but they aren't interesting for another few episodes.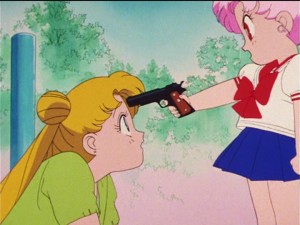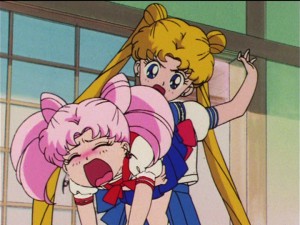 Support the site by buying these episodes of Amazon Instant or getting the DVD or Blu-Ray released through the links below.