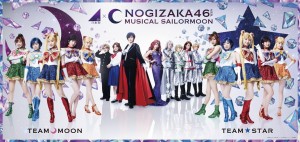 News has been posted to the Official Sailor Moon Site stating that at the end of September the Nogizaka x Sailor Moon musical will be airing on Japanese TV. The showings, on TBS channel 2 in Japan, will be held on two days to showcase both Team Star, September 29th, and Team Moon, September 30th. Each showing is at 5pm Japan Standard Time. What does this mean for us fans out here on the other side of the globe far from being basked in the radio waves of Tokyo Tower? In the past when a streaming version of the musical was made available this meant that some fan would record the broadcast and eventually create an English fan subbed version of the musical. I have been watching the releases from Miss Dream for the past many years but a takedown notice by King Records has lead to them removing their hosted files for the Petite Étrangère, Un Nouveau Voyage, Amour Eternal and Le Mouvement Final musicals. What does this mean for the new musical? I can't say for sure.
Last week Miss Dream content manager Sailor Busters posted to her Twitter account stating her intention to record and upload the musical for the site.

So the Nogimyu will be aired on TBS channel 2 in Japan and I WILL have the ability to record both sessions (though it may not be at the EXACT time it airs/streams). Then I will packing it up and upload it for Miss Dream!

— はるかの光|Sailor Busters|Gozita (@gozita2003) August 9, 2018
It seems like the fan subbing group intends to share the musical. They may of course decide not to rather than risk another takedown notice after all the hard work that goes into translating and subtitling a musical. If it does get subbed and King Records sends another takedown notice they would likely comply and remove the content. I can't predict the future but it seems like a subbed version of the musical is a possibility.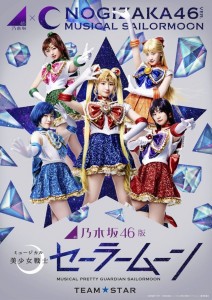 I'm always hesitant to advocate flat out piracy on this site. In this case fan subs are thought to occupy a grey area where they aren't legal but in cases such as this they seem to do little or nothing to negatively affect any legal product sales in Japan. Because of this most fan sub groups will be removed once there is a legal release of that content. I always encourage fans to support the official releases when possible. In this case the musicals have generally been released on video in Japan only. These releases are region coded with DVD region 2 which will not play in North America. These have not included any English audio or subtitles. Further the digital versions are usually restricted to users in Japan. That said things are getting more complicated as we have started to see performances and even theatrical showings of recent musicals here in North America.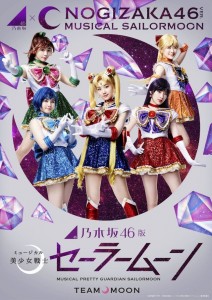 Could the takedown notices by King Records be an indication of plans for a North American release of the musicals? I can only speculate as to what this means. It may simply be the case that they are trying to avoid having Japanese fans, who might otherwise pay for their legal releases, from downloading these English fan subbed releases and disabling the soft subtitles to watch them without any English text. The Internet, after all, has no borders. These sort of things didn't happen back in the days of tape swapping and were less relevant with hard subbed videos which would be that much less appealing to a Japanese viewer. Similarly North American releases of Japanese anime on DVD and Blu-Ray could be imported by Japanese viewers often at a fraction of the cost of expensive Japanese releases. In the case of Sailor Moon this hasn't been much of an issue with the massive difference in quality between Japanese and domestic releases.
What do you think? Have you been watching the Miss Dream subs of the musicals like many others in the fan community? Are you hoping to have a chance to watch the Nogizaka46 x Sailor Moon musical as well? What do you think about the morality of sharing fan subs of releases not legally available in a country?