We've finally got some specifics on the upcoming showings of the Sailor Moon The Super Live musical which will be taking place in New York City and Washington D.C. We also have specifics of who will be involved in the cast which has been dubbed Team America and I have detailed descriptions of those cast members later in the post. The name "Team America" bears an unfortunately and likely unintended resemblance to the all puppet adult film "Team America World Police" by South Park's Trey Parker and Matt Stone.
First! The dates. The Washington D.C. performance will be on March 24th at 7pm at the Warner Theatre. This will be a full performance of the musical! It was previously announced that the cast of the musical would perform something at the opening ceremonies of the National Cherry Blossom Festival held on March 23rd but the length of those ceremonies made it unlikely the entire musical could be performed during the 90 minute ceremony. Fans in the area will be able to get tickets from Live Nation.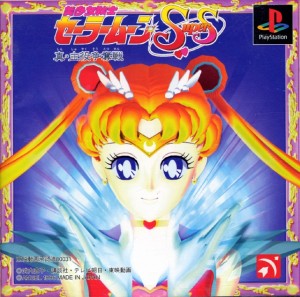 The New York City show will have three performances over two days. The first will be Friday March 29th at 8pm followed by two showing on March 30th at 1pm and 5pm. The musical will be performed at the PlayStation theatre on Broadway in Manhattan New York. That's right! Sailor Moon is finally returning to PlayStation after a long hiatus following the 1996 Sailor Moon SuperS fighting game for the original PlayStation. Fans can order tickets from AXS.
Now a word on the cast! Previously the Sailor Moon The Super Live Musical was performed by three different casts in Japan, those being the ❤ Pink Heart Cast, the ◆ Yellow Diamond Cast and the ♪ Blue Musical Note Cast. We had previously posted those casts list in earlier posts here on the site. So which Team is it that's making up Team America? It's actually a bit of a mix! Sailor Moon, Mercury and Mars as well as Queen Beryl are from the ♪ Blue Musical Note Cast while Sailor Jupiter and Venus are from the ◆ Yellow Diamond Cast. Kunzite and Tuxedo Mask were the same actresses for all performances in Japan and they will be reprising their roles in America. Dancers are from all casts, as is detailed at the end of the post.
A bit of background on each of the actresses for those wondering who they might be seeing in these shows!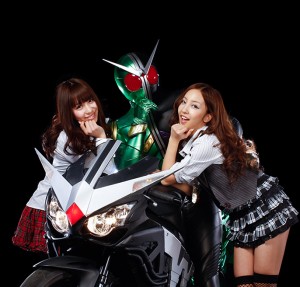 Usagi Tsukino, Sailor Moon, will be performed by Tomomi Kasai. She was previously a member of the popular Japanese band AKB48. She was also in the Sentai series Kamen Rider W in which she played Elizabeth (the one of the left in the above picture). You can learn more about Tomomi Kasai from her official web site, Twitter feed or Instagram page.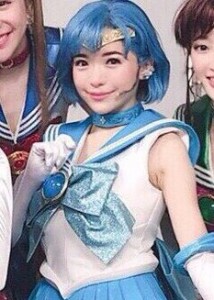 Momoko Kaechi will be playing Sailor Mercury. She previously appeared in a few Japanese drama series and films. You can follow her on Twitter where she occasionally posts images of a Sailor Mercury doll in her travels.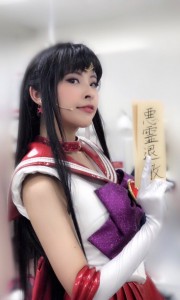 Yui Hasegawa will portray Sailor Mars. Her main acting experience is as a voice actor who's works include video games such as Phantasy Star Online 2. She has previous stage acting experience as well including portraying Viluy of the Witches 5 in the Sailor Moon Un Nouveau Voyage musical. For more about Yui Hasegawa follow her on Twitter or check out her official web site.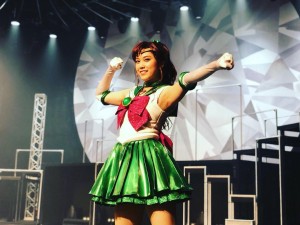 Sailor Jupiter will be played by Kanna Matsuzaki. She is an actress and model who has a small role in a recently released film called Blood Club Dolls. You can follow her on Instagram where she occasionally posts pictures of cats.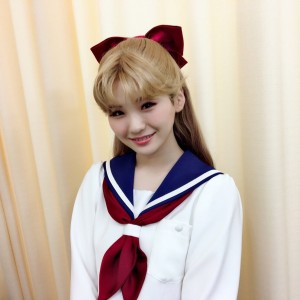 Sailor Venus will be portrayed by Yu Nakanishi. She is a dancer and actress from movies and other stage plays including Luna Rossa and Ranpo Chronicle. For more on Yu Nakanishi you can follow her Twitter account or check out her official site.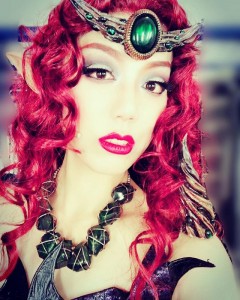 Queen Beryl is played by Makoto Aikawa. She is an actress who has performed in a number of stage plays in the past couple of years. You can see more of her stuff by following her Twitter feed, Instagram page or checking out her official web site.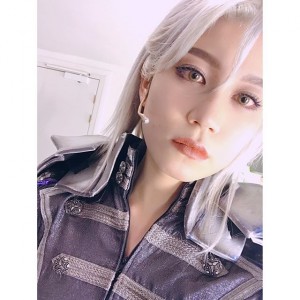 Reo Sanada will play Kunzite of the Shitennou. As with all musicals since La reconquista we have all male characters portrayed by women and The Super Live continues with this tradition. Reo Sanada is a transgender woman with experience in acting and dance. Fans looking for more can check out her Instragram page.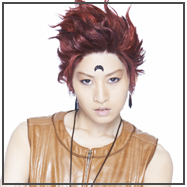 The important role of Tuxedo Mask will be performed by Riona Tatemichi who is playing her fourth character in a Sailor Moon musical! She first played Rubeus in the Petite Étrangère musical and then played Hawk's Eye in the Amour Eternal musical and finally was Taiki Kou, Sailor Star Maker of the Sailor Starlights, in the Le Mouvement Final musical. In addition to her many Sailor Moon credits she has also appeared in a number of other stage musicals including some based on Utena and Gundam. You can find out more about Riona Tatemichi from her Twitter feed or official web site.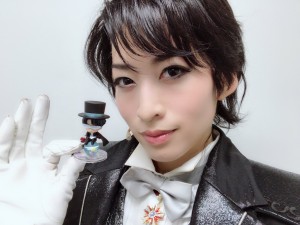 Finally we have a group of dancers. Though I have not yet seen the musical we can see from various photos that these five characters appear to be Dark Kingdom monsters of some type. These are generally non singing role which are portrayed by professional dancers. With the original three teams the various dancers often performed on more than one team and here we have a mix of dancers from the three teams. This includes Atsumi Matsubayashi, from the ❤ and ◆ teams, Izumi Niihashi, from the ❤ and ♪ teams, Ayumi Higashikawa, from the ◆ team, Moeko Koizumi from the ◆ and ♪ teams, and finally Hinako Aikawa from the ◆ team. Note that the image below does not feature the five dancers from Team America, as they have not performed together in the past. This is another of the teams from one of the Super Live performances.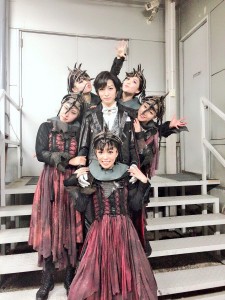 Will any of you be lucky enough to be attending either of these showings? These are much closer to my home town than any other musical performance has ever taken place! I've taken road trips to New York and Baltimore (near to Washington D.C.) in the past with little trouble. Unfortunately with two children under 2 years old at this time it seems unlikely I'll be able to make the trip. Please let us know if you plan on attending and how it goes!

(This movie is extremely 18+)