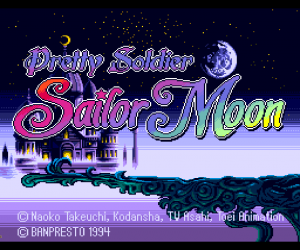 English fans will finally have the chance to play a Sailor Moon video game which was previously only available in Japanese. The game is Pretty Soldier Sailor Moon for the PC-Engine Super CD-ROM system known as the Turbografx-CD in North America. Since the game was only ever released in Japan it is usually referred to simply as a PC Engine game. The game was translated by a group of fans and released by Supper. You can read about the translation and download the patch on the Romhacking.net web site.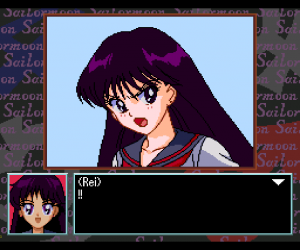 So what is this game about? The Romhacking page describes it as a visual novel, a type of game which is common in Japan but not as much in North America. The story takes place during the Sailor Moon R season of the anime between the Makaiju and Black Moon story arcs, which would be between Sailor Moon R episodes 59 and 60. That said it is not branded as a Sailor Moon R game but just as Pretty Guardian Sailor Moon. The characters mostly seem to be those from the first season of the anime. The intro features Nephrite and the DD Girls.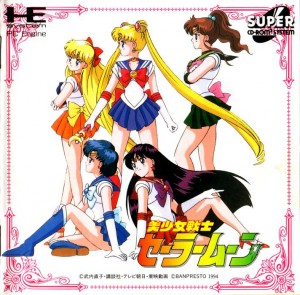 I've played a short bit of the game and as far as I can tell you are given many dialog options which all basically end up telling the same story. The player chooses one of the main five characters who progress through the same story from a different point of view. There are animation and voice clips throughout the game featuring art in a very similar style to the anime. The voice work is provided by the voice actors from the 90s anime series! This version keeps the Japanese audio but translates all written dialogue to English. This makes the game much more accessible to English speaking fans who would not have gotten much out of playing this title in its original form.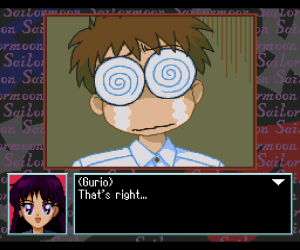 So how does one download and play this game? The Romhacking web site does not actually include a playable version of the game. What is included is a software package which can be run on the original Japanese version of the game to modify it to run in English. The site is unable to tell you where to find the original Japanese game because that would constitute piracy! If you look around the Internet you may find a web site which would have this file.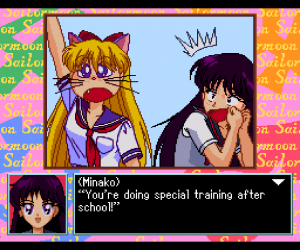 I'm used to patching single rom files with a patch file but since this is a CD based game you'll need to patch a CD image, which can come in many formats. The readme file that comes with the download will explain various options. Luckily the file I had could be patched with the first listed option "A. Directly patch the Redump-verified BIN or IMG image". I have a Mac which always makes these things a bit difficult but I had no problem running the included DeltaPatcher.exe program with Wine. I then ran into a couple of problems. First I renamed my files which is a bad idea when using .cue and .bin files so I needed to change the file name in my .cue file. After that I realized that I needed a bios file to run a PC Engine CD game. Once again this is a file which one might find on certain web sites which host questionable software. Where you store this file will depend on the specific emulator you use. The readme file mentions this.
What emulator who wish to use will depend on what device you wish to play the game on. MagicEngine seems to be a popular option for those with a Windows PC. I was able to get the game working on RetroPie, emulation software which runs on a Raspberry Pi, and on my hacked 3DS using TemperPCE.
Here are Sailor Moon News we don't generally endorse piracy of video games and other content. That said, the ethical concerns over such things usually relate to loss of potential revenue for the creator of that original content. While we always suggest you support the show by buying legitimate releases when possible, it is unlikely that the hard working people at Banpresto, now Bandai Spirits, will be losing any revenue over a handful of English speaking Sailor Moon fans playing a pirated copy of a game which was released in 1994. There isn't really a way to buy this game and have that money get to the pockets of the legitimate rights holders in 2020.
Did you try this game? Did you have any trouble getting it to work? Let us know what platform you're playing it on and what you think of the game!
Thanks to Dan Bednarski and Miss Dream on Twitter for bringing this news to my attention!