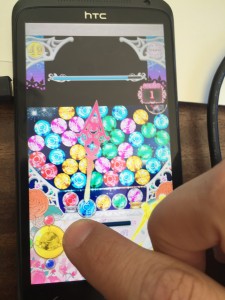 Last week I made a post about a new Official Sailor Moon app for Android phones. At the time I mentioned that the included game was only available to members of the Fan Club. This is not technically correct. One does not need an actual paid Fan Club membership to use the game. They are in fact able to play it if they have an account for the Fan Club web site even if they never completed registration for the Fan Club, which requires a payment and for them to live in Japan, or use a deputy service. The bad news? You can't sign up for such an account anymore. The kind of good news? I did sign up for such an account while trying to get a Fan Club membership before hitting a wall and giving up because I didn't live in Japan. So much to say I was able to use my account to sign in to the app and play this new game. Anyone else with an Android phone who's in this specific situation can download the app from the Google Play store. The app should be out on iOS devices soon enough.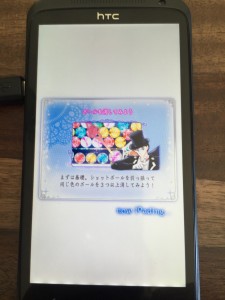 I had a pretty terrible time getting this game working. I tried to load it up a few times and managed to play about a game and a half. My phone is terrible and old, hence I can't take screenshots with it and instead have photos of the phone, but the app also seems to be somewhat unreliable. I spent most of the time staring at a loading screen which seemed frozen. Once I actually got into the game I was surprised to see it wasn't quite as much like Bust a Move as I expected. Basically you use your finger to pull back and release the orbs in the little tray on the bottom and launch them into similarly coloured orbs. The orbs disappear and you get points. You have a limited time to do this. Honestly I just played that one game. It was frustrating and after a few more frozen load screens, freezing games and finally a freezing time up screen when I completed a game, I didn't want to play any more. The game isn't all that great and it doesn't have much to do with Sailor Moon, aside from having Sailor Moon symbols and characters. I hope you find my review less disappointing than the actual game.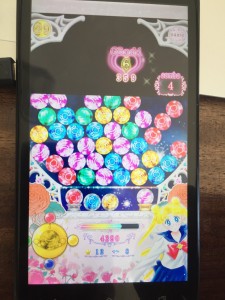 Thanks to Rem and Erica for leaving comments which helped me to get this game working.