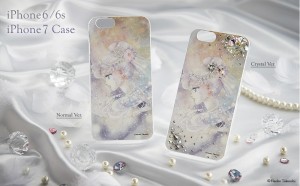 A new item is now available for pre-order from the Official Sailor Moon Fan Club. If you're not already a Fan Club member, you're pretty much out of luck as the period to sign up has long since passed. The latest item is a cell phone case for Apple iPhones featuring an image of Princess Serenity by Naoko Takeuchi which was made for the Sailor Moon Exhibit. It comes in a somewhat affordable "Normal Version", only $20.99 US, or a "Crystal Version" which is a significantly less affordable $140.99 US. Preorders can be done until January 27th and the item will be released in March.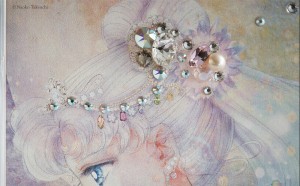 What kind of gems account for this difference in price? Any actual precious stones would likely drive up the price much more than $100. These are Swarovski crystals which are basically cut glass. Actually that's not completely accurate. These are lead glass which is a kind of glass that has a high refractive index which basically means it's more shiny than normal glass! The case is available for iPhones only and at that it's only for 6, 6s and 7 models. I'm out of luck to get one to fit my iPhone 6+ but maybe I'll just buy another Sailor Moon case and stick some rhinestones on it.
What do you think of this case? Will you be picking one up?