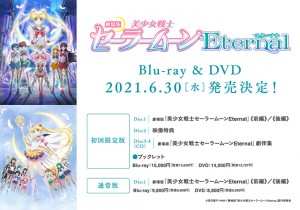 A great gift is coming for Usagi's 43rd birthday as both Sailor Moon Eternal films will be released on one DVD and Blu-ray set June 30th. The news follows Netflix's announcement that the movies will be streaming worldwide on their service on June 3rd. There will be a more expensive 3 disc Blu-ray (or DVD) and CD combo or a less expensive but still expensive single disc version. A trailer for the home video release was shared to the official site. You can watch it below.
Though we don't have a lot of details about the special features the more or less bare bones release appears to be just a Blu-ray, or DVD, of the film itself. The single disc Blu-ray will cost 9,800 yen, about $90 US, while the DVD will cost 8,800 yen, about $81 US. The first run limited edition Blu-Ray set will include the disc with the films, a bonus Blu-ray disc who's contents have not yet been specified, two CDs which will include songs from the film as well as some drama tracks and a booklet. Drama CDs usually include audio of the characters, performed by the voice actors, along with songs. In this case the songs are Moon Color Chainon, the opening theme for the film, and Moon Effect, one of the character songs which feature the entire film's cast. The exact content of these CDs remains to be determined. There have been a number of Sailor Moon drama CDs released in the past though they're not of much use to fans who can't understand Japanese. This Blu-ray set will cost 15,000 yen, about $138 US. The DVD version is 14,000 yen, about $129 US.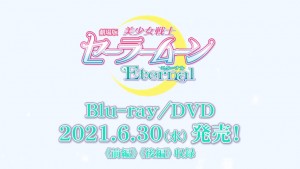 Note that Japanese Blu-ray discs are region A which is the same region as North America. I have imported many Sailor Moon Blu-ray discs and they play without issue on PlayStation 3 and PlayStation 4 game systems which were bought in Canada. Japanese DVDs are region 2 NTSC discs and are incompatible with North American region 1 DVD players, unless they are region free. These sets will almost certainly not have any English subtitles or audio.
There are also vendor specific pre-order bonuses from specific retailers. Some are included with the base price but some others are included for a premium price. For Amazon Japan the free pre-order bonus is an A4 sized file folder featuring Sailor Uranus and Neptune. The premium pre-order bonuses are a framed lithograph (high quality printed image) and a Luna and Artemis mug set. There are not currently any pictures of these items. The sets are currently being shown as being out of stock on Amazon Japan. I've had issues preordering a number of their recent CD sets. We will be sure to share some links once other purchasing options are available.
There are also a number of Sailor Moon figures as pre-order bonuses. A set of the five Sailor Guardians in Eternal outfits is available with what I believe is the official fan club. A different set with Eternal Sailor Chibi Moon and the Sailor Quartet is available from the King e-shop and Sailor Moon Store. (Update 2021-05-03: It seems the King e-shop and Sailor Moon Store figures are of Sailor Chibi Moon and Sailor Uranus, Neptune, Saturn and Pluto and not the Sailor Quartet. I misinterpreted the half broken translation I was reading.)
Do you plan on picking up any of these sets? With the movies streaming on Netflix in early June many fans will have had the opportunity to see the films before this is released. It is also likely that we will eventually get a much less expensive domestic release of these films, though it's hard to say when that might be. While the bonus video and booklet certainly do seem appealing I look forward to getting more details of what this includes before deciding if these are worth the price! What do you think?