In a shocking turn of events the voice of Sailor Cosmos from Sailor Moon Cosmos Part 2 is Keiko Kitagawa, a popular model and actress who is best known to Sailor Moon fans for portraying Rei Hino, Sailor Mars, in the live action Pretty Guardian Sailor Moon series! This comes as a surprise as many fans likely expected Sailor Cosmos to be voiced by Kotono Mitsuishi who voices Sailor Moon in Sailor Moon Crystal as well as Chibi Chibi. Keiko Kitagawa will also be voicing Guardian Cosmos who is a separate character who protects the Galaxy Cauldron where star seeds are born. Check out some footage of Sailor Cosmos as voiced by Keiko Kitagawa below.
Now it is time to speculate wildly about the true identity of Sailor Cosmos! The Le Mouvement Final musical cast Satomi Okubo as Sailor Cosmos because she'd previously played Sailor Moon which supports the idea that Sailor Cosmos is a future version of Sailor Moon. Since Kotono Mitsuishi voiced Sailor Moon back in the original 90s anime as well there wasn't another Sailor Moon voice actor to fall back on, unless we consider Kae Araki, the voice of Chibiusa, who filled in for Kotono Mitsuishi when she was off sick at the end of the first season and start of Sailor Moon R. Instead by casting Keiko Kitagawa perhaps this means that Sailor Cosmos in this version is actually a future incarnation of Sailor Mars! Looks like that rivalry finally got settled and Rei got Usagi's power!
A preview of Sailor Moon Cosmos Part 2 was shown to fans earlier today. Keiko Kitagawa met with Kotono Mitsuishi at a press event to discuss the film. They had previously worked together on Rikokatsu. While some fans were upset that Kotono Mitsuishi didn't get the role she was quite supportive of Keiko Kitagawa and her performance. Naoko Takeuchi herself was also said to be at the recording of Sailor Cosmos's lines! Kotono Mitsuishi is Sailor Moon royalty! She's the star of this movie, the titular character and has been the face of the press of all things Sailor Moon Crystal for the past decade. There's no need to be upset that she didn't get to play a third voice in this movie which she's already all over!
Source: Sailor Moon Official Site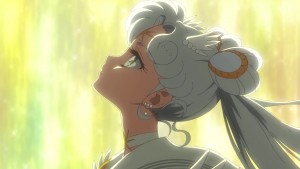 Keep reading for more images from this trailer and the press event.