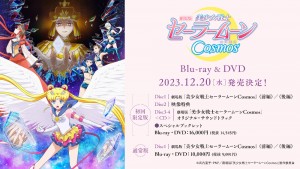 Good news for those who like to spend a lot of money to import movies they don't understand! The official Sailor Moon site has announced that Sailor Moon Cosmos Parts 1 and 2 will be release on regular and limited edition DVD and Blu-ray sets on December 20th 2023! As with other Japanese Sailor Moon releases this will only include Japanese audio with no English subtitles. Japanese Blu-ray discs are region A so they will play in a North American Blu-ray player however their DVDs are Region 2 which won't play on a North American player. You can watch the short trailer for the Blu-ray release below.
There are two version of each of the Blu-ray and DVD release and they aren't cheap! The single disc Blu-ray or DVD, which somehow costs the same in 2023, has an MSRP of 10,000 yen, about $69 US. The four disc sets also costs the same on DVD and Blu-ray with an MSRP of 16,000 yen or $110 US. What's the difference? The four disc set has a second DVD or Blu-ray with special features including an anime music video, likely the one we got with the soundtrack, creditless openings for the films as well as two CDs with music from the films.
There are also vendor exclusive special incentives from a number of retailers. There are acrylic figures with different characters being included with the films from different retailers. Those are even more expensive than the regular four disc set though price varies slightly between retailers.
So when do we get to see the movies here? We still don't have any news about a release of the Sailor Moon Cosmos films outside of Japan but that doesn't stop people from speculating! As the Sailor Moon Eternal films were released on Netflix less than a month prior to the Japanese Blu-ray release of those movies many are thinking that we will be seeing these movies either in theatres or on Netflix, before December 20th. I'm not totally convinced of this timeline as it seems odd to time a North American release with a Japanese home video release, or to do the opposite, but it seems that usually Japanese Blu-rays are released after movies are released here.
The original timeline which I speculated about back when Sailor Moon Cosmos Part 1 was released in theatres predicted that if we heard about and got a release of Sailor Moon Cosmos with a similar delay that we did for Sailor Moon Eternal then the Netflix announcement would be in September, next month, and the streaming premiere would be in November. There's still time for this to happen!
All that said I am reluctantly looking forward to importing these movies for their absurdly high price. If a North American release isn't out by then I will watch the Japanese version and surely follow along well enough as the story is pretty close to the manga. It's also likely, in the event that a North American release is still not announced prior to December 20th, that someone will fansub the films. This sometimes happens as quickly as a few days after a show airs or is available on video. Perhaps these fansubbing groups will not be working hard on the days before Christmas and we can expect it a bit later.
Will you be picking either of these sets up? If so which one?