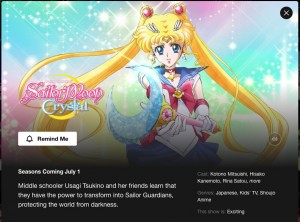 More good news for Sailor Moon fans with a Netflix subscription! The Sailor Moon Crystal TV series will be added to the service soon, on July 1st! The Sailor Moon Eternal films were both added to Netflix on June 3rd. As those films are a continuation of the Sailor Moon Crystal series which started airing in 2014 it's nice to see everything in the same place! A page for the series is up on Netflix and it mentions "Seasons" are coming July 1st. I assume this means all three story arcs, but we won't know for sure until the 1st. It also seems likely this will include both the original Japanese and English dubbed versions of the shows and perhaps some others.
The series may not be available in all countries. It is coming to the US and I can confirm that it's on the Canadian Netflix as well but you might want to check to see if the series is listed in your own country's Netflix if you aren't sure!
For now the series is still available to stream on Crunchyroll, Hulu and Funimation in the US as well as on Tubi in Canada. No end date appears to be listed for any of those services, so it's likely the series will stream on Netflix while still being available on other sties.