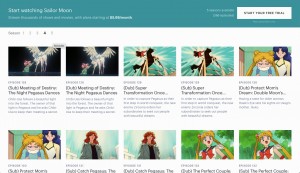 Great news for Sailor Moon fans who don't want to spend money on physical media but don't mind spending money on streaming video services. The new Viz English dub of Sailor Moon SuperS is now available on Hulu! The subbed version has been on Hulu for many years, but the dubbed episodes have only been released some time after the home video releases were sold in stores. I'm not sure exactly when this happened but it seems it was recently. I frequently received questions from fans asking when SuperS will be out on Hulu, so I know some people had been waiting for it! Earlier today I stumbled upon this article from Variety which listed "Sailor Moon: Season 4″ as being released on October 1st. When I doubled checked Hulu's list of October releases, Sailor Moon was not listed, however the dubbed episodes of Sailor Moon SuperS were already streaming on the site.
As a Canadian I don't have the option to watch Hulu without some sort of proxy and I'm not going to bother paying for something which is that much trouble. Other streaming options exist in Canada, such as TubiTV, but that service does not offer the dubbed episodes which stream on Hulu. Fans can also watch subbed episodes on Viz.com but this also doesn't include the dubbed episodes. Until recently Yahoo View! was a free option for content which used to stream for free on Hulu but the service ceased in June of this year.
If like me you're holding out on moving forward with the digital and streaming revolution you can listen to Viz's Sailor Moon dub by buying the seasons using the links below.