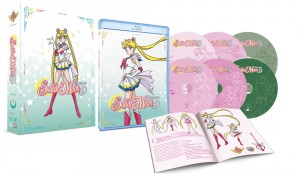 Sailor Moon SuperS Part 1 will be out on DVD and Blu-Ray on April 24th. Those looking to pre-order it should be careful to get the right version. I often get these from Amazon however the Special Edition is hard to find on the site. The Amazon listing for the product only includes the DVD and Regular Edition Blu-Ray but there is a separate page with no box art which has the Special Edition Blu-Ray. This includes a box to house both volumes and a special booklet. The set can also be pre-ordered from Right Stuf. They have Special Edition Blu-Ray, Standard Edition Blu-Ray and DVD copies listed on their site.
As is often the case with such a release Viz has given us a sneak peak at a lot of the voices in the form of some videos. These ones were posted to the Viz Media Twitter account as well as their YouTube channel. This includes a full trailer showing various characters and a couple of clips of the Amazon Trio. You can watch them embedded below:
We also recently got cast information about Sailor Moon SuperS Part 2! Long ago we learned about the actors appearing in Part 1 but it wasn't until a couple of weeks ago at Anime Boston that we finally got an announcement of who would be voicing Queen Nehelenia (now spelled Nehalennia) and the Amazoness Quartet. This was confirmed on Twitter. The Amazon Quartet take the place of the Amazon Trio as the season's villains once their story arc is completed. The cast includes Laura Post as Queen Nehalennia, Erica Lindbeck as Ves-Ves, Xanthe Huynh as Palla-Palla, Erika Ishii as Jun-Jun and Cassandra Lee Morris as Cere-Cere. Cassandra Lee Morris previously voiced Calaveras of the Ayakashi Sisters in Sailor Moon R.
Are you planning on picking up this set?