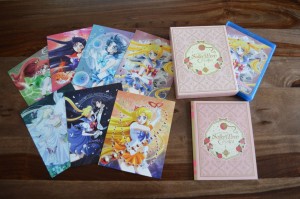 The first North American release of Sailor Moon Crystal is out on DVD and Blu-Ray! This came out on August 16th and is available in stores as well as online retailers such as Amazon. Yes I know this review is long overdue. I started it months ago and then just never got around to posting it. I'll be talking specifically about the Limited Edition Blu-Ray set though the standard Blu-Ray and DVD versions are both out and since those are contained within this set you can get an idea of what they are with this review. The set contains the first 14 episodes of the series, spanning the entire Dark Kingdom story arc. I had pre-ordered the set from Amazon Canada but when it didn't ship after release I canceled my order and bought it from HMV. I haven't rewatched the entire set but have watched it a bit to see the quality.
The quality looks really good. This is probably the issue most people, or at least myself, had with the original series release. The old masters from the 90s weren't great. The Japanese DVDs looked decent but every release we've gotten in North America has had significant issues. I don't blame Viz for that. I think they did the best with what they had to work with. This is a whole other ball game. Sailor Moon Crystal is new. Viz has access to great masters and the quality of the release reflects that. I didn't do frame by frame comparisons but the show looks generally good. The Blu-Ray looks like a Blu-Ray of a recent show should and the DVD is limited only by the format. Note that this is the same video as the Japanese home video release which had minor changes from the original streaming version. That was the same source that was used for the dub of Sailor Moon Crystal which is included on this set.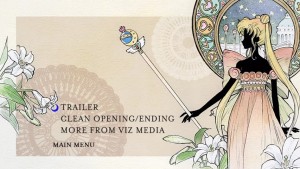 There aren't a ton of extras in this release. There are art galleries which include a handful of character art from various characters. There's also a "clean" version of the opening and end credits, meaning they don't have any credits included, just the original visuals. There's an English trailer for Sailor Moon Crystal which you may have seen before. There are also trailers for other Viz releases such as their release of the original Sailor Moon anime and some other anime shows.
The set also comes with an 88 page booklet. Since the Japanese releases of the first story arc of Sailor Moon Crystal covered 7 different releases, including a 24 page booklet each, it wasn't practical to include these as a massive 168 page book, but this booklet is close enough. It includes episode summaries and character art from those included in the Japanese release. Not everything is included or translated word for word. Interviews are included but instead of featuring Japanese voice actors and staff who'd worked on the show these are replaced with interviews with actors from the English dub.
As you can see the character art included is nearly identical.
While interview content is completely different the layout is very similar.
The packaging looks great. Since there was so much art for the various Japanese releases a series of art cards are included in this. There are seven cards in total which reflect the art included with each of the seven Japanese releases for the first story arc.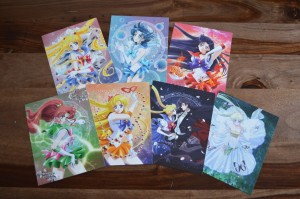 If you have been enjoying Sailor Moon Crystal then you should probably pick up this release. It isn't necessary if you just want to watch the show, as the streaming version remains available on a number of services, but as more of those require users to pay to view content free of ads or at all we can't know what the future may bring. Physical media continues to be less and less relevant but if you want to have this series and have it forever this is an affordable way to do it. The Limited Edition Blu-Ray may seem expensive for 14 episodes but a single two episode Japanese release cost about the same. It's a bargain all thing considered. If you're a completist and you need a reason to get this when you can still watch the streaming version consider that this set is the only way to watch the series in Japanese with English subtitles including the updated animation.
Keep reading for more photos of this set and the included special book.