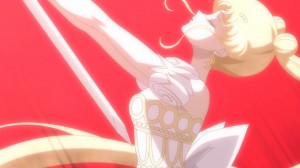 The latest English dubbed episode of Sailor Moon Crystal is now available on Hulu and Neon Alley. This week we get Act 10, Moon, as the gang literally travels to the Moon. There they visit the uploaded consciousness of Usagi's mother from another life, Queen Serenity. This leads to more flashbacks including the revelation of a tragic murder suicide.
The big change from the manga in this episode is the suggestion of Shitennou Sailor Guardian pairings. This was hinted at only with an image in the original manga. There was a suggestion that Rei and Jadeite had a previous relationship in Act 3 when Jadeite found her beautiful and familiar. Also paired up are Makoto and Nephrite as well as Ami and Zoisyte. The relationship between Minako and Kunzite was mentioned elsewhere, including the Sailor V comic.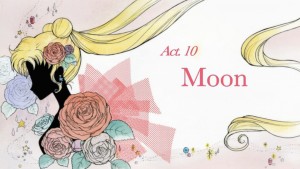 Next week is Act 11, Reunion – Endymion. Some new guy in town looks a lot like Mamoru only he's evil and a bit gay.