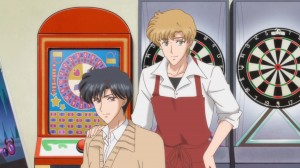 The latest episode of Sailor Moon Crystal is now available. Act 11, Reunion – Endymion, can be streamed on Crunchyroll, Hulu or Niconico. This week a mysterious familiar looking fellow named Endo shows up in Tokyo.
So who is this Endo who looks exactly like Mamoru but has no costume? Everyone seems to very quickly notice that he is Mamoru but for some reason quickly discounts it because his eyes seem to look a bit different. It's hard enough to accept the show's basic concept that a tiny mask or tiara completely hides one's identity. Indeed Sailor Moon Crystal, like the Manga, does a great job of not falling for this too much as people are pretty quick to recognize the true identities of other despite their costumes. Why is is that all of a sudden no costume and simply telling people your name is Endo is a perfect disguise? Then there's of course the fact that the name Endo is clearly short for Endymion, but also the name of Motoki's effeminate friend. I guess this is supposed to be a colossal coincidence since Evil Mamoru takes Endo's name?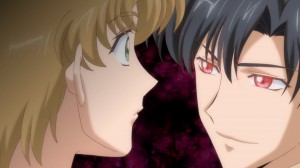 Endo instantly bonds with Motoki. His reason for targeting the arcade actually makes some sense. He senses something about the Sailor V video game, which is over the Sailor Guardians' headquarters, and so he infiltrates the place by befriending Motoki. Endo and Motoki's relationship in the Manga is a bit gay, most noticeably in a reach around arcade stick grab panel that is seen at one point, but generally in the way they hang off of each other. Brad from Moonkitty make an interesting observation on Twitter that it's trouble to associate homosexuality with evil. Indeed the examples of homosexuality in the first arc of the manga and subsequently the first season of the anime, are amongst villains. Sailor Moon is fairly good about portraying their heroes as being gay or lesbian once Sailor Neptune and Uranus show up, as well as hinting at some same sex attractions amongst other characters earlier in the series. I like to think this early connection between evil and homosexuality was not intended as a correlation, but all things considered it's nice to see it toned down.
Motoki's heterosexuality is also present in this episode as we get a better look at Reika, Motoki's love interest. We originally saw a brief glimpse of her in act 3 but this is the first time she is fully present. She seems a bit miffed at Endo and Motoki's affections for each other.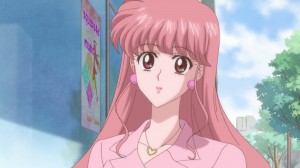 This week we get a look at Ami's apartment, which we are supposed to be really impressed with because it is fancy looking. Perhaps this is a cultural difference but I find the fact that Usagi's family lives in a full on house in crowded Tokyo to be more impressive and desirable than Ami's apartment living. Minako humorously asks if her carrying around a sword in an apartment lobby is conspicuous and everyone thinks it is. The sword's strength is demonstrated as Minako then uses it to destroy one of Ami's mother's diamonds.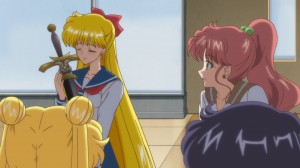 As things develop the headquarters is infiltrated by Makoto who is herself brainwashed into stealing the Silver Crystal. When things get serious I guess there wasn't much to fill the episode as we painstakingly watch every character's transformation sequence. There is a lot from the original anime that I miss but excessive stock footage is not one of those things! In the original manga publication this act and the next were actually a single story but they were split for later publications. This is why they likely needed to fill a bit of time. During the ensuing battle Venus uses her "Venus Love Me Chain" attack for the first time and Rei kicks evil Tuxedo Mask.
Beryl shows up and it's revealed that Endo is actually Mamoru, and for some reason people are surprised by this. Does anyone actually ship Beryl and Mamoru? I mean, I love to ship all kinds of people and relish in how much it annoys fans but this coupling just doesn't work for me.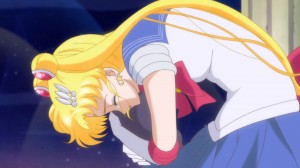 Luna and Usagi's relationship has some attention this week. She console's Usagi at the beginning of the episode and later, after being attacked by a very evil Tuxedo Mask, Sailor Moon hugs her once more. Their complex relationship is obviously much more than owner/cat dynamic and closer to one of mentoring and close friendship.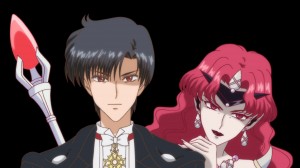 Next time is act 12, Enemy – Queen Metaria. As I mentioned this next story was originally part of act 11 in the first manga publication. During the 2003 rerelease of the manga the story was split in two. Sailor Moon Crystal is following those chapter breaks for episodes.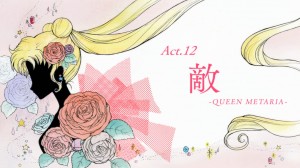 On December 20th we'll be seeing more of evil Tuxedo Mask, some Mamoru/Queen Beryl shipping and some pretty violent shocking events.
Keep reading for more screenshots from this episode and the next episode preview.