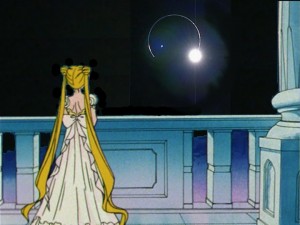 Tomorrow, October 8th 2014, there will be a Lunar eclipse. Here on Earth we will see the Moon obscured by the shadow of the Earth, but what would this look like to the people living on the Moon in Silver Millennium? Princess Serenity spent a good deal of time staring out at the Earth. If she happened to do so during what we call a Lunar eclipse, what would she see? Included above is a rough estimate done in a rush.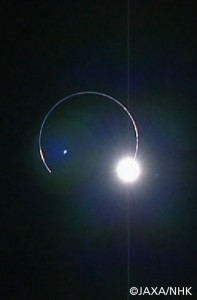 A Lunar eclipse seen from the Moon would be somewhat like a solar eclipse seen from Earth. The Earth, located between the Moon and the Sun, would cover the Sun from view causing the Moon's surface to be plunged in darkness. With the Earth occupying more space in the Moon's sky than the Moon does in ours, Lunar eclipses seen from the Moon would generally cover more of the sun and for more time than a Solar eclipse observes from Earth. Inhabitants of the Moon would be used to seeing the Sun up in the sky for 14 Earth days of light followed by 14 Earth days of darkness. This eclipse would occur 7 Earth days into their period of light right at the middle of the day, when the Moon is at it's fullest.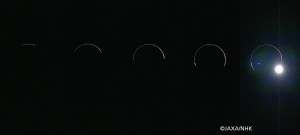 The Kaguya space probe from Japan had a look at just what it this looks like in February of 2009. This view had the Earth covering all but a small part of the sun, leaving a small ring in the sky. The Kaguya space probe viewed the Earth from near the Moon's North pole, which is why it was partially covered by the Moon's surface in the horizon. Since Silver Millennium was located in the Sea of Tranquility the Earth would actually be located quite high in the sky, staying mostly stationary throughout the day. Years ago I did some math based on the size and location of the Earth in the Moon's sky and in all cases this representation was incompatible with what it would look like if it was observed from the Sea of Tranquility.
Tomorrow's Lunar eclipse will begin at 4:17am EST with the full eclipse happening at 6:27am EST shortly before sunrise here in Ottawa. Check this page out to see if and when it will be visible for you.
Possibly Related Posts