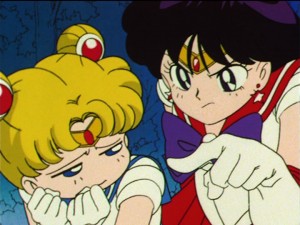 Episode 43 and 44 of the original Sailor Moon anime were added to Hulu and Neon Alley this morning, October 6th. As with every Monday two new episodes in Japanese with English subtitles by Viz are added to these streaming services. This week the first season is starting to wrap up as the gang tries to get into the Dark Kingdom to free Tuxedo Mask and have a flashback to their past.
Episode 43, Usagi Abandoned: The Falling-Out of the Sailor Guardians, centers around the girls having a mutiny against Sailor Moon! But things aren't as they seem. The mutiny is nothing more than a ruse to try to get Sailor Moon into the Dark Kingdom to rescue Tuxedo Mask. In this process Sailor Mars steals the Moon Stick from Usagi! Seems fitting after Usagi stole her boyfriend! This is the episode which was recently reanimated, scene by scene, by a team of over 250 different animators. If you haven't already watched Moon Animate Make-Up! I would suggest watching that version of the episode instead of watching this.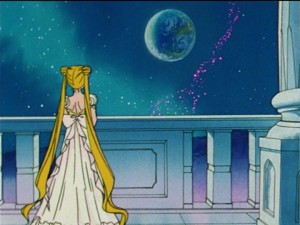 Episode 44, Usagi's Awakening: A Message from the Distant Past, is all about the flash back. Other stuff happens, mainly Kunzite dying and the discovery of a portal to the artic but really we are all about the flash back sequence. Kunzite attempts to randomly send the Sailor Guardians through time but thanks to a little meddling from the Moon Stick they are sent to the Moon where they get a lovely lesson in history from the ghost of Queen Serenity, Usagi's mom from her past life. The Moon used to be a great place to live back in the days of the Silver Millennium, and Princess Serenity fell in love with a man from Earth, Prince Endymion. Too bad an army from Earth led by Queen Beryl destroyed the kingdom on the moon and killed everyone. Queen Serenity uses her last bit of strength to send everyone into the future to be reincarnated, including some generic Sailor Guardians! Indeed we see Sailor Mercury, Mars, Jupiter and Venus in this episode but we also see some other Sailor Guardians in these bubbles that are going to the future. Some have speculated that one is Sailor Neptune due to her hair but as this episode was made before even Sailor Pluto has made an appearance in the manga any resemblance to future characters is purely coincidental. It's unclear what the exact timeline of this past is, though based on the Earth technology it seems medieval. The DiC English dub stated this time period to be "1000 years ago" and this seems like a decent approximation. The name Silver Millennium does not actually refer to any particular period of time, but rather the kingdom itself which is located in the Sea of Tranquility on the Moon.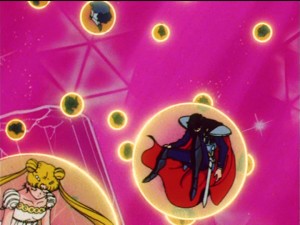 Differences from the manga in the events of the past are numerous. Beryl's jealousy isn't really touched upon. The Shitennou are present but there's no mention of them being Endymion's generals. Princess Serenity is killed instead of taking her life after Endymion dies. Queen Serenity seems to be a ghost rather than a hologram generated by a supercomputer which she uploaded her consciousness to. We'll see all that before long in Sailor Moon Crystal. This episode also marks the first appearance by Kae Araki as the voice of Usagi and Princess Serenity. Kotono Mitsuishi was off due to an illness and missed 7 episodes. Kae Araki later returned to voice Chibiusa and Black Lady.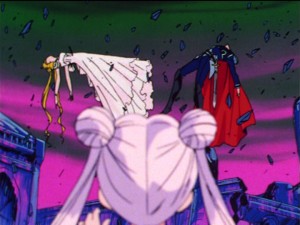 Also Queen Serenity is Jesus.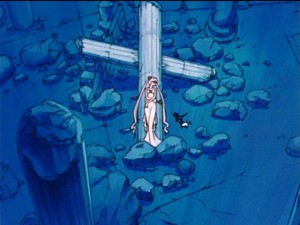 Possibly Related Posts