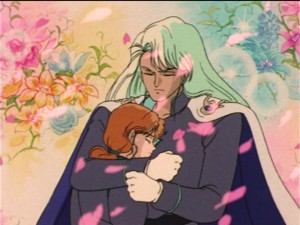 Two new episodes of the original Sailor Moon anime, in Japanese with English subtitles, have been added to Hulu and Neon Alley this morning, September 8th 2014. This week we have the aftermath of Usagi being revealed as Princess Serenity and Mamoru being abducted by the Dark Kingdom. Tired of listening to subtitled episodes? The first 23 episodes of Viz's new Sailor Moon dub have also been added to Hulu and Neon Alley for a limited time.
Episode 35, Returning Memories: Usagi and Mamoru's Past, takes off where we left with Mamoru mortally wounded and Usagi transformed into Princess Serenity. We get a pretty good look at the events of Silver Millennium in which Princess Serenity and Prince Endymion fell in love. Unfortunately with some memories revealed Mamoru is taken away by the Dark Kingdom for as of yet unknown purposes. Most of the episode deals with the Sailor Team trying to get out of the Starlight Tower. One interesting exchange occurs when Sailor Mars slaps Sailor Moon in the face. She's upset that Mamoru sacrificed himself for a crybaby like Usagi and is probably a bit upset that she stole her boyfriend. Zoisite dies in this episode, killed by Queen Beryl for ignoring her order and trying to kill Tuxedo Mask. Kunzite is upset about this but not enough to actually do anything about it! Finally at the end of the episode Sailor Moon uses her Moon Stick to destroy a massive building. No big deal.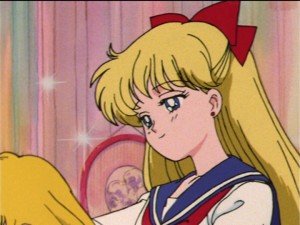 Episode 36, Usagi's Confusion: Is Tuxedo Mask Evil?, has us introduced to Minako while there isn't anyone getting killed. Sailor Venus's first appearance was amidst a battle after which she just ran off. Usagi doesn't actually get to meet Minako as a civilian until after the excitement which ended in the last episode. Usagi is depressed after having lost Mamoru to the Dark Kingdom and Minako has the solution to this problem. Makeover! Minako and Usagi head over to a local salon which is having a sale which as always is a plot by the Dark Kingdom to find Sailor Moon. Oh yes, that's their new plan. Now that the Rainbow Crystal thing is all played out they're trying to find out who Sailor Moon is so that they can steal her Crystal. This week it's all about DNA testing! They find a blonde hair at the site of the last battle and, assuming it's Sailor Moon's, they use it to cross reference against everyone who comes in to the salon. Minako sets off the machine and they assume she's Sailor Moon. It turns out she got one of Usagi's hairs on hers when brushing her. Wouldn't it also make sense that the hair that was found by the Dark Kingdom was actually from Sailor Venus and that this is what set off the false positive? Anyway, Tuxedo Mask comes back and he's evil. Not really evil but kind of evil and without much of a memory. This is all very distressing but Usagi is in better spirits just knowing he's alive.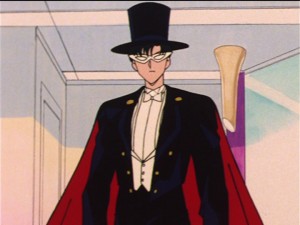 Tune in next week to see how else Kunzite can try to find out who Sailor Moon is.
Possibly Related Posts