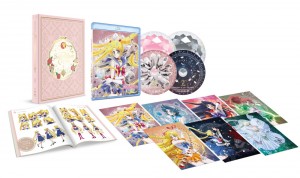 The first English home video release of Sailor Moon Crystal is coming this Tuesday, August 16th, in stores and online. This set will include the first 14 episodes of the series, which covers the Dark Kingdom story arc, in Japanese with English subtitles and with the English dub of the show. Since the Japanese release had only two episodes per release this is quite a bargain. The set will be available for a prerelease sale at Viz's booth at Otakon this weekend for only $65. You can order the limited edition from sites like Right Stuf, which includes a bonus sun catcher for some pre-orders, and Amazon for an MSRP of $80. The regular Blu-Ray version is a bit cheaper with an MSRP of $60. Order this from Right Stuf or Amazon if you don't care about the booklet, sun catcher and art cards. If you hate life and want to watch the show in a lower quality than you can with the free streaming version you can also get the DVD version from Right Stuf and Amazon for a bit less. Don't do this. Even if you are a time traveler who can't bring a Blu-Ray player with you to the past because old TVs don't have HDMI you get the DVD with the Blu-Ray/DVD combo pack so just get that.
Viz has put together an unboxing video which can be viewed on their site or in the embedded clip below.
The packaging looks good. The art cards included are the cover art for all of the Japanese releases. The included special book looks a lot like the ones that came with the Japanese releases only with interviews with the English cast. The sun catcher catches sun. You really don't have any reason not to buy this set. With the quality of the show there's no reason to expect this release to be plagued by the video quality issues the releases of the original Sailor Moon anime were.
Possibly Related Posts