The latest episode of Sailor Moon Crystal is now available to view in English on Hulu and Neon Alley. Act 13, Final Battle – Reincarnation, is the final full episode of the Dark Kingdom story arc. Everyone is putting their life on the line this week to defeat the evil Queen Metalia!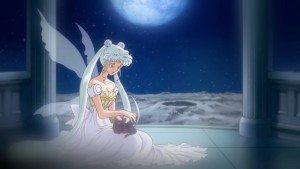 This is the version of the episode with modified animation, originally used for the Japanese DVD and Blu-Ray release. Amongst the changes is Queen Serenity's dress who in the streaming version, shown above, shows a dress that looks like Princess Serenity's. This was changed to reflect a style of dress that was similar to what Queen Serenity wears as an adult. I didn't like this change at all. I thought it was nice to see Queen Serenity in a different light, dressing like her daughter later would, perhaps when she was still Princess herself. Oh well. At least we still have kitten Luna!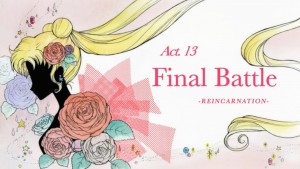 Next week is Act 14, Conclusion and Commencement – Petite Etrangère, which will sort of span both story arcs. We will conclude the Dark Kingdom story arc and then end with a setup for the Dark Moon Clan arc with the arrival of the "small stranger" Chibiusa.
Note: I will be traveling all week so this post was written last week and scheduled to go online after the episode airs. Should the episode not go online for whatever reason, I apologize for the confusing and misleading post!