A new trailer for the Sailor Moon Cosmos films has been released and this one includes the Sailor Starlights! We also have photos and names of the voice actors who will be portraying them and release dates for both parts of the films in June. In the trailer we see Seiya, Yaten and Taiki also known as the idol group The Three Lights as well as their Sailor Guardian counterparts The Sailor Starlights! You can watch the trailer on YouTube or embedded below.
We already knew that the Sailor Moon Cosmos films cover the Stars arc of the Sailor Moon manga in which the Sailor Starlights feature heavily so seeing them isn't a surprise but it is nice to finally see them. They sure do look great! We have a few clips of Seiya and Usagi on a rooftop, many clips of the Three Lights as their civilian identities and a bit of transformation sequences and attacks for the Sailor Starlights. There's also a bit of music, something that is likely to be an important part of the film as the Three Lights are an idol group who perform many songs. Manga is not a medium which lends itself to music but the original Sailor Moon anime had a lot of Three Lights songs, and these films surely will as well!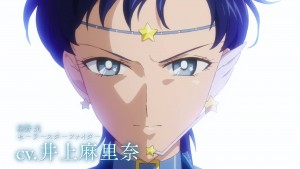 Seiya Kou, Sailor Star Fighter, will be voiced by Marina Inoue who has been an anime voice actor for nearly twenty years. She is known for having provided the voices of Armin Arlert from Attack on Titan, Momo Yaoyorozu from My Hero Academia and Cure March from Smile PreCure!
Taiki Kou, Sailor Star Maker, will be voiced by Saori Hayami, a voice actor and singer who's been working for about 15 years. Her voice acting credits include Leona from Dragon Quest: The Adventure of Dai and Himawari Uzumaki from Boruto: Naruto Next Generations.
Yaten Kou, Sailor Star Healer, will be voiced by Ayane Sakura, who's been doing voice acting for about 12 years. Her roles include Ochaco Uraraka from My Hero Academia and Yae Miko from Genshin Impact.
Sailor Moon Cosmos Part 1 will be in theatres in Japan on June 9th followed by Part 2 on June 30th. There has not yet been a date announced for an international release.
What do you think of these designs?
Source: The Official Sailor Moon Site
Keep reading for more screenshots from this trailer.