This is a review and discussion of Live Action Sailor Moon Act 3, The 3rd Senshi is Miko Rei, and Act 4, Sneaking into the Party! These episodes originally aired on TV in Japan October 18th and 25th 2003. Since Act 3 includes a date of October 22nd on a blackboard and Act 4 takes place at a Halloween party, it is safe to conclude that these episodes of the series were intended to take place roughly during the same dates in which they were aired. Assuming this trend was meant to continue we can estimate that roughly a year of time is elapsed over the course of the series.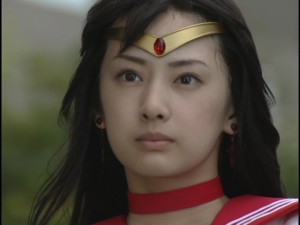 Act 3 introduces us to the Miko, or Priestess, Rei Hino who becomes Sailor Mars. Once again this episode quite closely follows the equivalent manga story for Act 3, which has a plot by the Dark Kingdom around Hikawa Shrine causing the disappearance of girls, where Rei is suspected, and where ultimately she travels to a pocket dimension and transforms into Sailor Mars. Rei is played by the lovely Keiko Kitagawa. Though most of the actresses have had minor acting and modelling careers following the series Keiko Kitagawa has without a doubt had the most success. She is a very accomplished model and has acted in many movies and TV series in Japan.
The episode opens with a game show hosted by Luna. A lot of the sense of realism becomes a bit hard to grasp with some of the things which take place at Karaoke Crown. How does Luna, a cat with no opposable thumbs, do any of this? How did she create the forged year long passes that the girls use to freely come and go? How did she set up the headquarters? How does she set up things like gameshow buzzers on a whim? All magic, perhaps? There's no evidence that she's able to transform into a human to do this work… yet. Luna quizzes the girls and the answers we get are at best intentionally misleading and at worst, completely false. In an answer to the question of how many more Guardians there are, the correct answer is given to be 2. Let us ignore Sailors Uranus, Neptune, Pluto and Saturn as they do not appear in this series, but the answer is still incorrect. There are 4 Sailor Guardians who protect the Princess. Okay let us assume, for argument's sake, that one of the remaining 3 Sailor Guardians is the Princess, meaning two more to protect her, but there's still this pesky business of a 6th Sailor Guardian which appears in the later half of the series. Without getting into specifics, this is perhaps something Luna should have some knowledge about! Little things like this, and the general way the show plays out, lead me to believe that even with a relatively short run of the show, a lot of the plot points were not known ahead of time but instead were a bit made up as the show goes on. Minako in the opening, for example, is seen interacting with the others and wearing a school uniform that never appears in the series, but resembles what is seen in the manga and anime.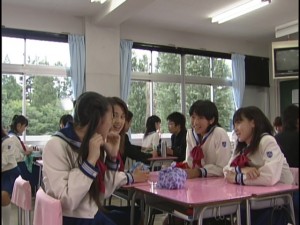 A bit of probably pointless trivia. This guy in Usagi's class… doesn't he look a bit like Umino? Perhaps it's just a guy with glasses.
In class Usagi invites Ami to eat with her and her friends. She is at first excited but, upon seeing her friends looking at her oddly, declines the invitation stating that it would be too suspicious if all of a sudden they were friends. This seems to be a fabricated excuse on Ami's part because of a potentially uncomfortable situation with Naru and Usagi's other friends. Usagi and Ami bonded quickly before it was even known that she was Sailor Mercury, simply because they ran into each other on a bridge. They could have stated that, perhaps leaving out the part about the magical talking stuffed cat which can arrange game shows without thumbs, and it should be good enough!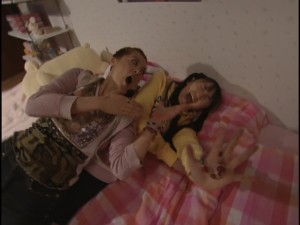 Meanwhile Ami visits Usagi's house, and their friendship appears to be developing, but we will eventually see that things aren't all that easy. We learn in the process that Usagi's mother is a bit nuts.
Enter Rei! She first bumps into Usagi on a bridge, leaving behind a bracelet which leads Usagi to try to track her down. With all of the disappearances and rumours about Hikawa Shrine, Usagi gets scared when she hears a couple of crows. These crows aren't named however they could be Phobos and Deimos, Sailor Mars's two pet crows.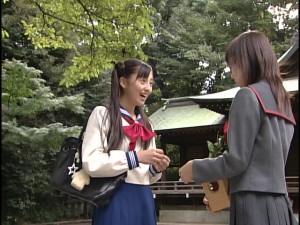 Some girls show up at the shrine and bully Rei, taking her weird birdhouse looking thing and even pushing her to the ground. Usagi to the rescue! It doesn't take much for her to befriend someone, and she immediately tries to be kind with Rei, again not knowing that she's really a Sailor Guardian. It seems like the series constantly assures us that Usagi would get along with these girls if they didn't have super powers, so that we don't think they are just together for convenience.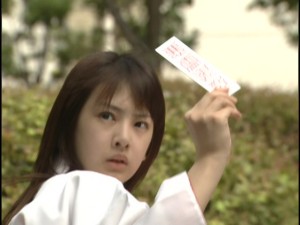 In a classic Terminator move it looks like Rei is about to attack Usagi and Ami with a charm but it turns out she's attacking a pack of leaves turned monster behind her. Kyle Reese does this to Sarah Connor in the first film. The Terminator does this to John Connor in the second. Usagi and Rei get whisked away to this pocket dimension type thing where everything has a blue haze to it. The fight goes on as expected with Rei becoming Sailor Mars and using Youma Taisan, which is an attack unique to the live action series similar to her Fire Soul from the anime and manga.
The fight is won and everyone starts leaving the blue pocket dimension thanks to Sailor Mercury. Sailor Moon gets cut off and … Tuxedo Mask… is in the blue dimension? Where did he come from? Jadeite mentioned 6 girls were kidnapped. Did he kidnap Tuxedo Mask as well? Did he sneak in at some point? It seems plausible that he snuck in through the portal as it was closing, but this isn't clearly demonstrated.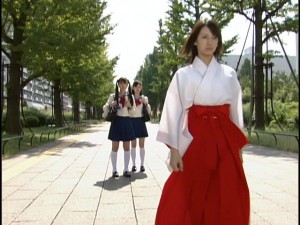 The episode concludes when Usagi, happy to have her friends together, suggests a karaoke party. Rei says that she hates karaoke and doesn't intent to join them! Big spooky music, this is clearly the conflict to be dealt with in Act 4…
Act 4 on its surface appears to be a story unique to the live action series, but it actually has some similarities to the manga Act 4, Masquerade – Dance Party. This is also somewhat similar to episode 22 of the original anime, Romance Under the Moon: Usagi's First Kiss. In these there is a gem to be revealed at a masquerade party which invites the attention of the Sailor Guardians, Nephrite and Tuxedo Mask, who all fight to get the crystal. Here the masquerade is instead a Halloween themed disguise birthday party for a girl who is again revealing a gem with all parties interested in getting it.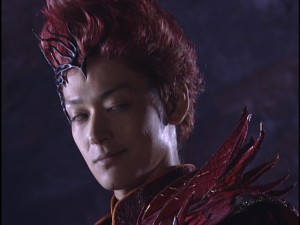 This episode introduces us to a great relationship of the series, and that's Queen Beryl and Jadeite! She point blank says to Jadeite that if he loves her, he should be of some use to her. It seems that Jadeite's motivation is his love for Queen Beryl. This dedication, as we will see throughout the series, is beyond that of the other Shitennou. With that we are introduced to Nephrite, the second of the Shittennou, who looks nothing like his manga or anime counterparts! He has short red hair and a reddish uniform. While Jadeite looks much like other versions of Jadeite, we will see that this similarity is not there for the rest of our Dark Kingdom villains!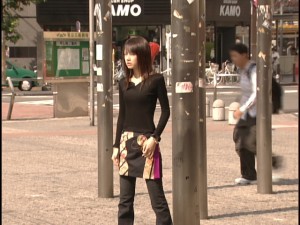 Another first of the series we see here is Rei and her skirt pants! Back in 2003 when this show was first airing I had never seen a person wear a skirt and pants at the same time. This was a fashion trend that eventually became somewhat common, but whether this was due to my ignorance of high fashion or not, this was the first time I saw it and I thought it was weird! I've since come to accept and appreciate Rei's shirt pants and pretty much anything she wants to wear to be honest.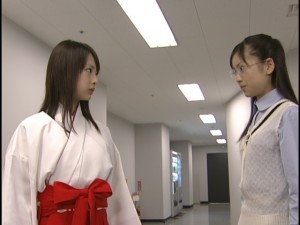 The tension with Rei continues. Not only does she not like karaoke but she doesn't want to attend the party with Ami and Usagi. Ami confronts Rei alone about this and insightfully suggests that perhaps Rei is afraid of friends. This seems right on the mark as Rei says that friends and family eventually abandon a person, and we get some insight into her past that we will be seeing more of as the series goes on. By the end of the episode Rei warms up to Usagi and Ami a little, stating that even though she still hates karaoke, she would be okay with a get together if it didn't involve karaoke. If only all social problems were this easily resolved!
In two cases in this episode Usagi does a terrible job of hiding her super powers. In the first case, while looking for fancy dresses for the party, Usagi uses her magical clothes changing phone in front of a crowded street full of traffic to change her outfit a number of times. In the second case, at the end of the episode, Ami calls out "Tsukino-san" to Sailor Moon in front of Tuxedo Mask. Sailor Moon responds by calling Sailor Mercury "Ami-chan" and Sailor Mars "Rei-chan". Tuxedo Mask appears to be too dense to notice this, as the eventual revelation of Usagi's identity much later in the series is a total surprise to him.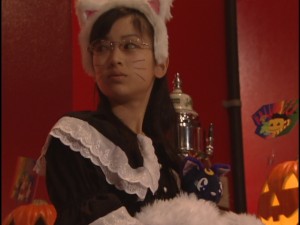 Ami shows up at the party wearing a ridiculous cute/sexy cat costume. Luna makes a comment asking how they could have known it was a Halloween party. This is ridiculous for a few reasons. For one, they clearly seem to know as Ami and Usagi both came with costumes. Sure they have those phones which can copy another person's costume, but there do not appear to be any other sexy cat or ridiculous furry bear costumes present at Yuka's party. The other reason should be obvious and that's that it's Halloween! During Act 3 we see a date of October 22nd on a blackboard. Act 4 aired on October 25th, within a week of Halloween. It stands to reason, based on this and the fact that this is a Halloween party, that it is in the whereabouts of Halloween at this point! Why, then, is a Halloween costume party so out of the question?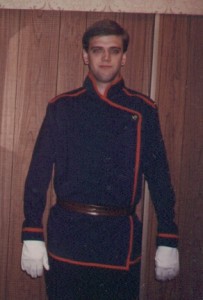 Back in 2002 I was invited to a Halloween party at a friend's house. This friend had Halloween parties every year and they were always dress up parties. I made my own Jadeite costume for this party and, upon arriving, was informed by all my friends that it wasn't a costume party! The correct question is not how one could have known it was a costume party, but how anyone in their right mind could expect that one wouldn't think such a thing was a Halloween costume party! I spent the night ignoring my friends and talking with people at the party who I had never met. They, having no prior contact with me, did not have the social responsibility of explicitly informing me that this was not a costume party and so I was not upset at any of them.
Much like in the manga and anime versions of the episode, the guest of honour of the party, in this case Yuka, is possessed by a monster so that she can steal her own gem. The monster, in this case, is a ridiculous looking cactus. It splits into 3 pieces requiring precise timing of three attacks to defeat him. The trick? The three girls sing Minako's hit song "C'est la vie" in unison. This was a trick used in the film Hudson Hawk by a bank robber played by Bruce Willis and his partner. They sang a song of a particular length to get the timing of their job just right, and like in Sailor Moon, the trick worked! As Rei sang along with "C'est la vie" all I could think was "Who hates karaoke now, Rei?". This will not be the last time we hear Rei sing in this series!
With the fight completed Usagi leaps to catch the jewel, in doing so nearly falling off the ledge of the building. Tuxedo Mask grabs her and in doing so puts her in a much more favourable position that Sailor Moon and Ami were in Act 2. Tuxedo Mask, in this case, is fully stable on the roof. Although Sailor Moon told Ami not to give up when in a much worse position, she tells Tuxedo Mask it's no use. Where did that optimism go? They both fall and Sailor Moon creates a magic bubble to float to the ground. In the manga and anime equivalent stories, the two fall off of a balcony and Usagi uses her disguise pen to create an umbrella which allows them to defy physics and float to safety. Since the disguise pen in this series is a cell phone app, things needed to be switched up a bit.
Feel free to leave a comment with your own thoughts on these two episodes. If you're looking to watch along with the series you can get English subtitled fan subbed versions from sites such as Miss Dream, TV-Nihon and Sea of Serenity. What does everyone think of the new banner?
Keep reading for more screenshots from these episodes.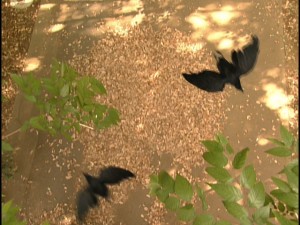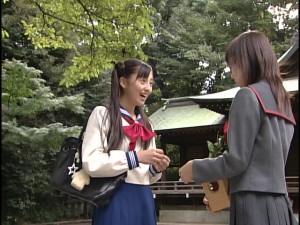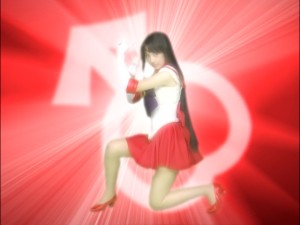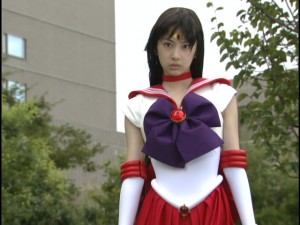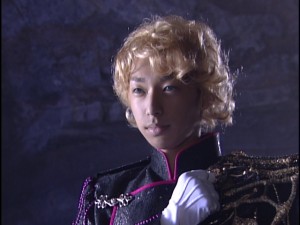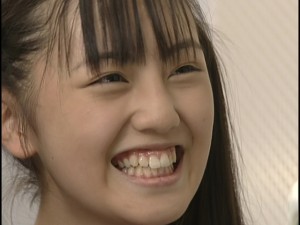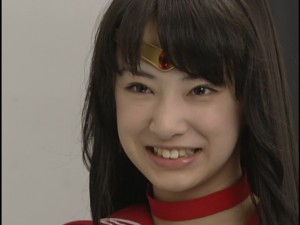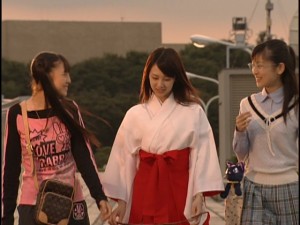 Possibly Related Posts