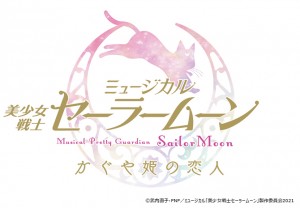 The next Sailor Moon musical, The Lover of Princess Kaguya, finally has a new release date of September 2021 in Japan! This musical was originally scheduled to be performed in Japan in the summer of 2020 however it was postponed along with many other events such as the Tokyo 2020 summer Olympics, due to the COVID-19 pandemic. The Sailor Moon official site has been updated to mention only that the event will take place in September, though specific dates and locations for these performances are not yet specified.
Years ago this musical was only referred to as the Pretty Guardian Sailor Moon New Musical and it was planned for a 2019 release. This was when it was announced alongside the Nogizaka46 x Sailor Moon musical and The Super Live musical. We finally have a proper updated logo for the musical in which we can see Luna and the somewhat awkward full title Musical Pretty Guardian Sailor Moon The Lover of Princess Kaguya. The Lover of Princess Kaguya manga story on which this musical is based is all about Luna falling in love with a human. This story is probably best known to some fans as Sailor Moon S The Movie which was an adaptation of that manga story.
We still don't know much about this musical than we did in 2019. With this story focusing on Luna, will we be seeing excellent puppet work like they did in the Nogizaka46 musical? While Human Luna will be appearing in this musical that is only briefly near the end and Luna will be an actual cat for most of the story.
Would you consider traveling to Japan in September of this year? Though the ongoing pandemic is still raging in many parts of the world, many people in all age groups will likely have access to vaccines by the end of the summer making this a low risk trip for many, which certainly wouldn't have been the case last year.
If you're looking to catch up on the manga story this musical is based on it is included in volume 6 of the Eternal Edition of the Sailor Moon manga.
Possibly Related Posts