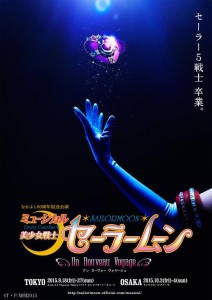 We now have a poster, title and release date for the latest Sailor Moon Musical. The title is Pretty Guardian Sailor Moon Un Nouveau Voyage, which like the title of the second musical is in French. Many have been translating this as "A New Voyage". I feel the title translates more accurately to something like "A New Journey" or "A New Trip" as the French word voyage has more uses than the English voyage does. Journey is more likely to be what the title is referring to, as it's more of a new chapter in the lives of the Sailor Guardians whereas trip would insinuate the Sailor Guardians are going on some kind of vacation, as used in "Bon voyage" which is not likely the case given what we know about the third story arc of the Sailor Moon manga. All considered I will be using "A New Journey" as the English title on this blog and will change this should there be any official confirmation of an English title.
The main cast of five girls will be the same as the last musical but this will be their final performance together. No further casting details have been revealed at this time.
The musical will be playing in Tokyo from September 18th to the 27th and then in Osaka October 2nd to the 4th. The story will cover the Infinity arc of the manga, Sailor Moon S from the original anime, which has the Sailor Guardians dealing with the Death Busters and meeting Sailor Uranus, Sailor Neptune and Sailor Saturn. Chibiusa will continue to be present as Sailor Chibi Moon. The poster features Sailor Moon's Cosmic Heart Compact.
Source: The Sailor Moon Musical Official Site and Sailor Moon Musical Staff Blog.
Possibly Related Posts