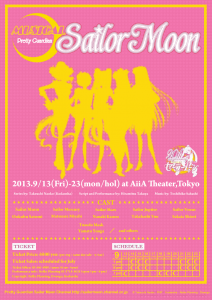 A new Sailor Moon stage musical will be playing in Japan this September. Miss Dream bring us many details of this event with their translations of Fumio Osano's Tweets and various flyers. Japanese readers can see the announcement on the official Sailor Moon site. We've got dates, preorder details and cast information.
This Sailor Moon Musical, which is referred to as SeraMyu by some fans, will be playing over a 10 day period, running from September 13th to the 23rd. Tickets will be on sale starting in July by phone but can already be purchased online through this link.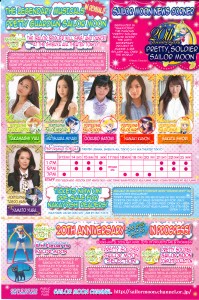 From the description in the flyer in Nakayoshi we learn that this musical will be a retelling of the story of the fight against the Dark Kingdom, which covers the first manga story and first season of the anime. We already have the main cast with Satomi Ookubo as Sailor Moon, Miyabi Matsuura as Sailor Mercury, Kanon Nanaki as Sailor Mars, Yu Takahashi as Sailor Jupiter, Shiori Sakata as Sailor Venus and Yūga Yamato as Tuxedo Mask. Indeed, Tuxedo Mask will be played by a woman in this musical. Check out a picture of all of the cast members below. What do you think of their likeness?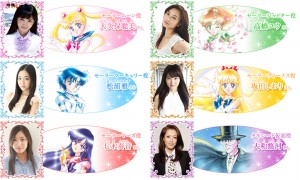 A few of these actresses have online presences you can check out.
Here are the modelling site profiles for Satomi Ookubo (Sailor Moon), Kanon Nanaki (Sailor Mars), Yu Takahashi (Sailor Jupiter) and Shiori Sakata (Sailor Venus).
In addition you can following the Twitter pages of Yu Takashi (Sailor Jupiter), Shiori Sakata (Sailor Venus) and Yūga Yamato (Tuxedo Mask).
Possibly Related Posts