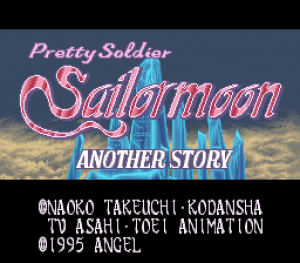 An updated English translation for the Pretty Soldier Sailor Moon Another Story RPG has been released on romhacking.net. This game, a Japanese Role Playing Game from 1995, was only ever released in Japan on the Super Famicom. Since there was never an English language release on the Super Nintendo Entertainment System, the overseas equivalent of the Super Famicom, fans looking to play the game have been able to do so thanks to an English fan translation released nearly 20 years ago back in 1999 by Bishoujo Senshi Translation. So what does this new one have to offer that the original translation didn't? The new team built on the work of BST but improved the translation with over 400 changes. If we look at some comparison screenshots we can see that basic elements such as fonts are based on the original patch and the script is similar but with a lot of small changes to the language. There were also some programming changes to bugs in the game. The text files included with the patch also have some new built in cheat codes for those looking to have a different game experience.
So! How can fans play this game? Video game emulators require a rom (read only memory) file which is basically a dump of the video game's data to play. The Sailor Moon: Another Story rom file itself is not included on the romhacking.net web site for copyright reasons. Only a patch file is hosted there which can be applied using a patching tool to the original Japanese rom file. Patching tools are easy enough to find. I use a pearl script because there are less tools available on Mac than on Windows PCs. If you're looking for the rom file there are some disreputable sites on the Internet which host such files including Sailor Moon Another Story.
Have you played this game? Do you plan on checking out this new translation as a way to experience this game for the first time or yet again? I've restarted playing this game at least 3 times previously! The first time I played a Japanese rom before a translation was available and didn't get too far. A few years later I emulated the English version on my Sega Dreamcast and gave up at some point in the North Pole when I found the random encounters time consuming. I later bought a copy of the Super Famicom game and played that in Japanese, giving up after a tough boss fight during Sailor Mercury's side quest. This might be a good time to try the game out again! I enjoy doing game emulation on my Raspberry Pi and my hacked 3DS. What do you emulate games on?
Thanks to Dan Bednarsky on Twitter for the heads up.
Keep reading for more comparison screenshots.
Possibly Related Posts