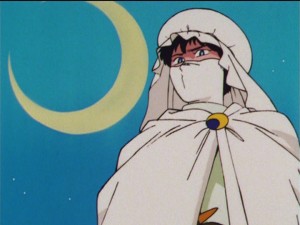 The two latest episodes of Sailor Moon R are now available on Hulu and Neon Alley. This week we are introduced to the Moonlight Knight who is a white looking Japanese man who is dressed like a stereotypical Arab. Did I mention he's totally not the same guy as Tuxedo Mask?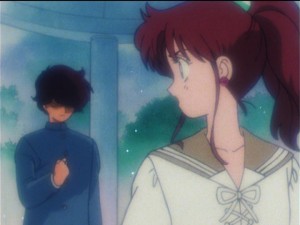 Episode 49, For Whom Is the White Rose? The Moonlight Knight Appears is all about the rainy day man! This episode's English dub featured the hit song "Rainy Day Man" during the sequence when we learn about Makoto's tragic past. We finally get a look at her Sempai, the older student at her school who she was infatuated with who didn't return her affections. The rainy day man is Shinozaki, Makoto's friend who consoled her with an umbrella on that rainy day when her heart was broken. He once again protects Makoto as she's attacked by a Cardian, which leaves him seriously injured. The Moonlight Knight makes his first appearance in this episode. Tuxedo Mask does not appear in the first 13 episodes of Sailor Moon R and so the role of dude who throws roses is filled by The Moonlight Knight! But he's not at all Tuxedo Mask. He throws white roses and he's dressed in robes. He's clearly not Mamoru.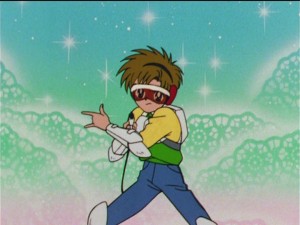 Episode 50, Usagi's Crisis: The Tiara Stops Working, isn't really about Usagi's tiara. That's sort of a side issue that will come back next week as a reason for Usagi to need a new attack item. It is a bit odd that Usagi's tiara stops working seeing as it randomly works again in the Sailor Moon R movie and again twice in the Sailor Moon S season and once more in the SuperS movie. Anyway it's really not about the tiara. It's about this cool 90s VR game. Did they have these in Japan? They seem to be shooting lasers at holograms of monsters, some of which are actual monsters from the first season, while wearing elaborate armour that doesn't seem to do much. Everyone who's anyone and more show up for this, including Usagi, Mamoru, Natsumi, Seijuurou and even Usagi's brother Shingo and father Kenji Papa. Meanwhile the rest of the Sailor Guardians are stuck in line. So a monster shows up and so does the Moonlight Knight who we all assume is Mamoru but they actually appear at the same time! Wait a minute. This isn't how the Polkaroo thing is supposed to work. Oh well I guess Mamoru isn't the Moonlight Knight after all!
So what happened to Kenji Papa in the past 10 episode? When they went to the hot spring he was super buff and now he's got a bit of a gut!