The latest episode of Sailor Moon Crystal is now available on Crunchyroll, Hulu and Niconico. Act 15, Infiltration – Sailor Mars, gives us a better look at the mysterious Chibiusa and then pits Koan of the Black Moon Clan's Ayakashi Sisters against Sailor Mars.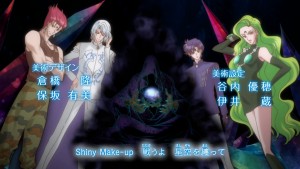 The first thing to note this week are the changes to the intro. Despite a few minor cosmetic changes the scenes specific to the first story arc, that being Queen Serenity and the Dark Kingdom, have been replaced with images of the Black Moon Clan, Chibiusa and Sailor Pluto. This is actually a very short part of the intro, as most of it is fairly generic not having anything season specific. That said if you look closely at Sailor Moon's brooch you will see that it is still the one she had in the first story arc.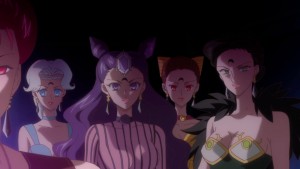 The Black Moon Clan are finally here! We get a good first look at pretty much all of the characters on their home planet of Nemesis (which Rubeus mistakenly refers to as a star, which may be a subtitle issue). We see Demande, Esmeraude, Saphir, Rubeus and Wise Man. We also get a look at the Ayakashi Sisters though this episode heavily features Koan.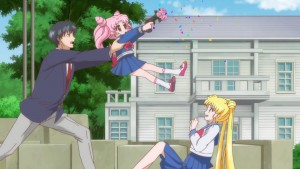 Chibiusa's gun wasn't real! It just had a flower in it. She decides to follow Usagi around, a good instinct as she has the Silver Crystal and is Sailor Moon, so she brainwashes the Tsukino family into thinking she belongs there. This causes Luna to hit Usagi and Mamoru in order to avoid them being brainwashed. Nice to see Luna hitting Mamoru right in the face. It's also nice to see Shingo again! He is dropped so quickly in the original anime that it's good to see that he's still around.
The girls receive new transformation items and communicators in this episode. These transformation pens are called the Star Power Sticks and the girls mention that they feel more powerful after transforming with them, which explains Sailor Mars's new power Burning Mandala and Sailor Mercury's new power Shine Aqua Illusion.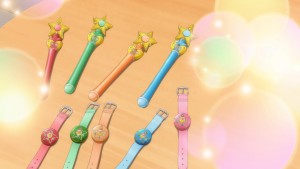 Arcades are so 1992! The Crown Arcade has been replaced with the Crown Fruit Parlor as the main hang out place of our characters. I'm not sure if this was meant to reflect the dwindling popularity of arcades when the manga was first published, the aging interests of the characters in the series or just a way to make it easier to tell the story. It's easier to have exposition happen as the girls drink some juice rather than amongst noisy arcade games. A new character, Asanuma, is introduced at the Fruit Parlor. A scene from the manga has him commenting that he thinks that a beautiful girl like Rei is more fitting as a girlfriend to Mamoru than Usagi. Indeed, I support this manga shipping of Mamoru and Rei but unfortunately Sailor Moon Crystal chose not to include this.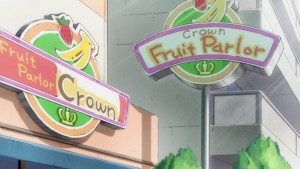 The main plot develops at Rei's school, T. A. Academy. It's an all girl's school. All kinds of pseudoscience surround this episode's plot as students investigate UFOs, spontaneous combustion and fortune telling! One character that is seen in the hall of T. A. Academy looks suspiciously like Heero Yuy from the 1995 anime series Gundam Wing. I find the other characters in this scene look a bit like they could be from other anime series, but no specific ones come to mind besides a girl showing a passing resemblance to Miki from Marmalade Boy.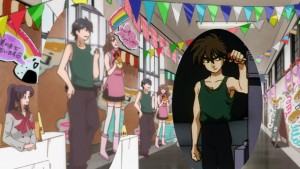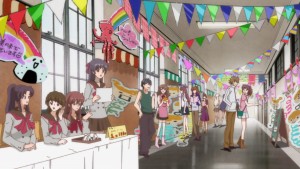 One student of T. A. Academy is the white haired Kotono Sarashina. She is investigating all these pseudoscientific things that in the context of this completely fictional story happen to be real. Her white hair is a bit odd to see. I suppose she's simply meant to have very light blonde hair, but she looks a bit like a ghost or a really old person! She is just one of the many characters who isn't given any colour in the manga, so the artists behind Sailor Moon Crystal are free to give her any hair colour they chose.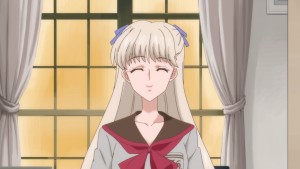 Rei is spending her time at the festival reading fortunes, which in the real world is nonsense but is a thing she can really do in the fictional world in which this story takes place. She has competition with Koan who is using her fortune telling powers to predict when people will die in the hopes that they will decide to join the Black Moon Clan with their remaining years. Not a terribly great plan.
The other plan the Black Moon Clan has in this episode involves burning people alive! Originally in the Manga Rei has a vision of a young girl being burned alive by Koan. This is not quite as terrible in Sailor Moon Crystal as the young girl is replaced by an adult man. The Black Moon Clan has a number of drones who originally pose as nuns and then run around making sounds very similar to those made by the Snow Dancers in the Sailor Moon S movie.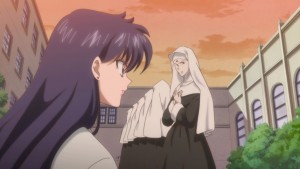 Once the combat starts, Koan and Sailor Mars face off. Sailor Mars gets frozen by Koan's fire. Sailor Moon and Tuxedo Mask summon the new attack item the Cutie Moon Rod which uses Moon Princess Halation to kill Koan. A pity, really, that she has to die. Indeed, this is how it was originally written in the manga. I always came to appreciate how the anime played out with Rei befriending Koan and sacrificing herself to protect her, ultimately making her abandon her evil ways to open up a makeup business which her sisters join her in. It shows a side of Sailor Moon that is more about forgiveness and friendship and less about power.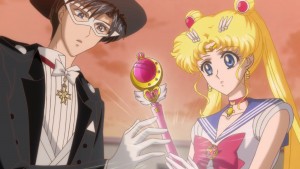 Sailor Mars is kidnapped. That's it. She's gone for a bunch of episodes now. How terrible!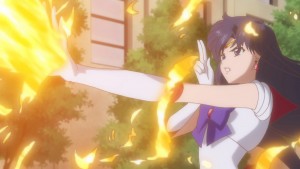 Next week is Act 16, Abduction – Sailor Mercury. This will be an Ami heavy episode as she faces off against Berthier. The episode will also feature puppet Tuxedo Mask!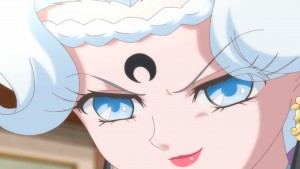 Keep reading for more screenshots from the updated intro, this episode and the next episode preview.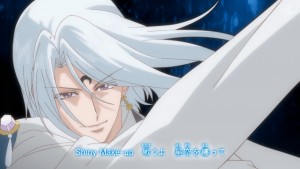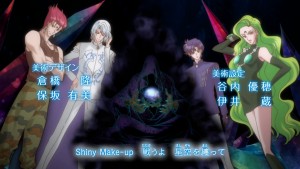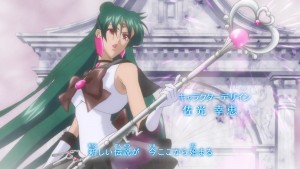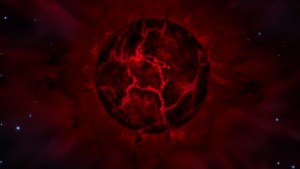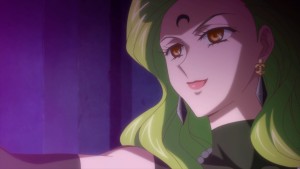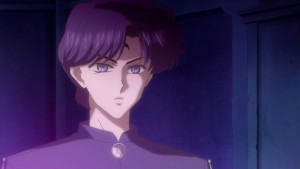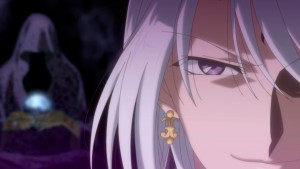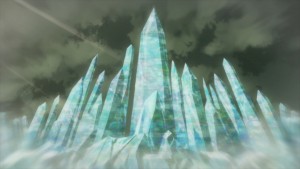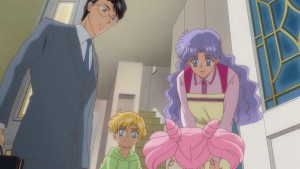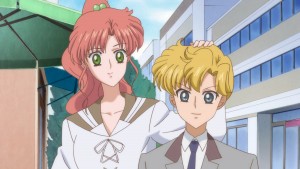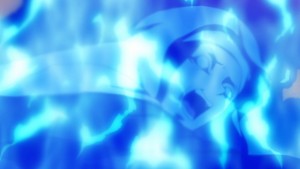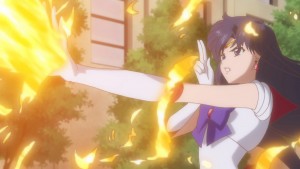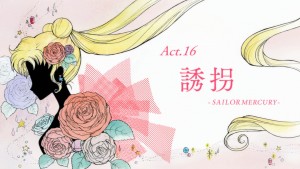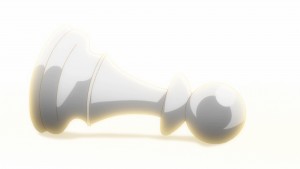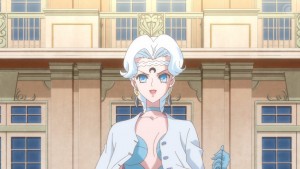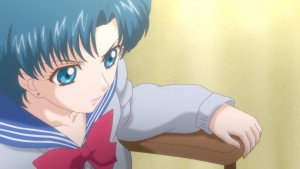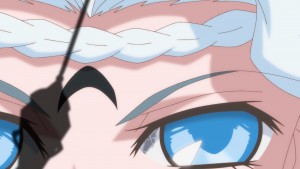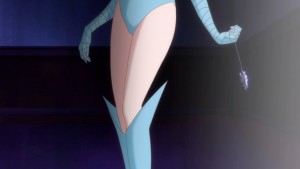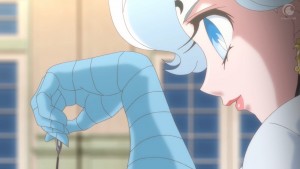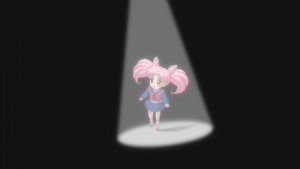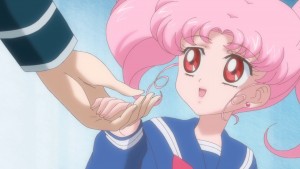 Possibly Related Posts