An update posted to the Official Sailor Moon site this morning revealed that the name of the upcoming musical, taking place in Japan this fall, will be called Pretty Guardian Sailor Moon Le Mouvement Final. The above logo was included with the post. No other details were included.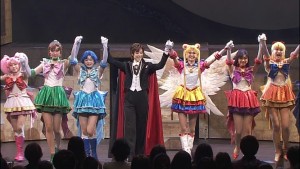 We have previously learned that almost all of the cast will be reprising their roles with the exception of Karin Takahashi who will not be returning as Sailor Saturn. That role will be played by Mirai. Though we've received no official confirmation of the subject of the musical it seems logical that this will focus on the Stars arc of the manga. The wings in the logo suggest we will be seeing Eternal Sailor Moon, who appears at the end of the Amour Eternal musical. The title, French for "final movement", suggests that this final arc of the manga will somehow finalize the story of these musicals. I had been hoping that after this 5th musical we would somehow continue the story of Sailor Moon with some kind of original musical that takes place after the story of the manga. Perhaps this will still be the case!
Update: I misreported the title as "Movement Final" and not "Mouvement Final". This is the correct French word for Movement.