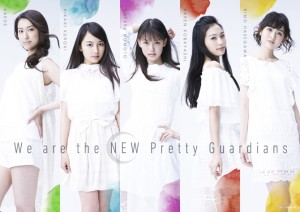 A new Sailor Moon musical is coming in October and the cast for the core five girls has been announced on the official Sailor Moon site. The image of the new cast, included above, was accompanied by a brief introduction by each of the cast members. The musical will run from October 15th to November 6th in three different venues across Japan. The performances in Tokyo will be from October 15th to the 23rd. Next is Fukuoka on October 29th and 30th. Finally performances in Osaka will take place from November 4th to the 6th. We don't have much in the way of details about this musical at this time. The last musical covered the Infinity arc of the manga but we don't actually know if this one will cover the Dream arc which follows it or do something different.
Check out the cast listing below
Hotaru Nomoto – Usagi Tsukino, Sailor Moon
Hikari Kuroki – Ami Mizuno, Sailor Mercury
Karen Kobayashi – Rei Hino, Sailor Mars
Kaede – Makoto Kino, Sailor Jupiter
Rimo Hasegawa – Minako Aino, Sailor Venus.
Possibly Related Posts