The Sailor Moon live event featuring new information about the upcoming Sailor Moon musical and Sailor Moon anime is complete and with that we have a great deal of new information. For the new anime, Sailor Moon Crystal, we have some new character art for all five of the main cast as well as the full cast listing. Most notable is the return of Kotono Mitsuishi, the original voice of Sailor Moon from the 1992 Sailor Moon anime, who will be reprising her role as Usagi in Sailor Moon Crystal. This was heavily insinuated at the original event announcing the new anime but now we have official confirmation.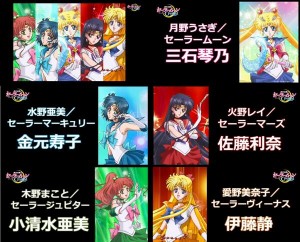 New voice actresses will be joining the show for the voices of Sailor Mercury, Sailor Mars, Sailor Jupiter and Sailor Venus. The new cast will include Hisako Kanemoto as Sailor Mercury, Rina Sato as Sailor Mars, Ami Koshimizu as Sailor Jupiter and Shizuka Ito as Sailor Venus. Click on their names to view their Wikipedia pages and see what roles they've done in the past.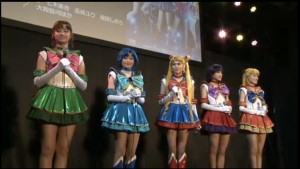 In addition to the new information about the new Sailor Moon anime Sailor Moon Crystal we also got details about the Sailor Moon musicals! Last September's new musical, Sailor Moon La reconquista, will be released on DVD on July 9th 2014. Most of the cast, with the exception of Sailor Mercury, will be returning for this summer's new musical which is titled Petite Étrangère, which is French for "Little Stranger" with the feminine usage of both words leading us to believe we're talking about Chibiusa. The musical will play in Tokyo from August 21st to the 31st and in Osaka from September 5th to the 7th. The new Sailor Mercury will be played by Momo Koyama.
Here's a look at all of the new voice actors from Sailor Moon Crystal: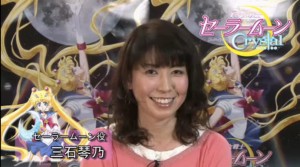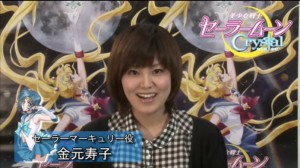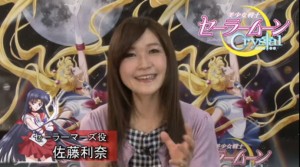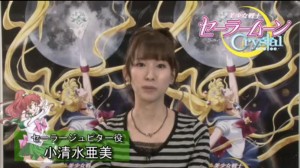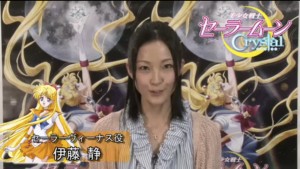 Image credit: Moon Kitty, @animevoice
Cast info: @fredjfrancis
Musical info: Moon Kitty, @sossailormoon
Possibly Related Posts