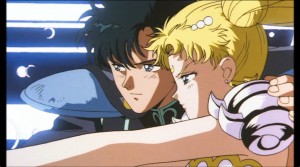 Viz and Eleven Arts have released a list of cities and theatres which will be playing Sailor Moon R: The Movie early in 2017! Some show times are still to be determined, though most are in January with a few in February. The list is available at the Eleven Arts web site. I've included it at the end of this post for those who are too lazy to click on that link. Viz has confirmed that more cities will be added later! There are currently no Canadian cities on this list but I remain hopeful that some will be added as we get closer to the release date!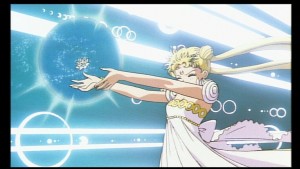 The movie will be screened either in English or in Japanese with English subtitles. Some showing are marked "DUB" or "SUB" to reflect this. When not specified as a note the dubbed version will be shown.
Is your city in the list? If it isn't, don't be discouraged! There's still time for yours to be added.
Arkansas:
Little Rock B&B Little Rock Chenal 9 TBD

Arizona:
Temp Harkins Theatres Vally Art TBD

California:
San Francisco Alamo Drafthouse Cinema San Francisco Feb 1 @ TBD (SUB), Feb 4 @ TBD (DUB)
Cerritos Harkins Theatres Cerritos TBD
San Francisco New People Cinema Jan 27 @ TBD
San Jose Camera 3 TBD
Sacramento The Tower Theater Jan 19 @ 8PM, Jan 22 @ 11AM
San Diego Town Square Jan 19 @ 8PM, Jan 22 @ 11AM
La Mesa Grossmont Center Jan 19 @ 8PM, Jan 22 @ 11AM
Bakersfield Reading Cinemas Valley Plaza 16 Jan 19 @ 8PM, Jan 22 @ 11AM
Murrieta Cal Oaks17 Jan 19 @ 8PM, Jan 22 @ 11AM
San Diego Caramel Mountain 12 Jan 19 @ 8PM, Jan 22 @ 11AM, Jan 23 @ 7PM
Rohnert Park RohnertPark 16 Jan 19 @ 8PM, Jan 22 @ 11AM

Colorado:
Littleton Alamo Drafthouse Cinema Littleton Jan 22 @ TBD (SUB), Jan 29 @TBD (SUB)
Denver Sie FilmCenter Jan 19-20 @ 7:30PM, Jan 21 @ 2PM, 9:30PM

Washington D.C.:
Washington D.C. Angelika Pop-Up Jan 19 @ 8PM, Jan 21 @ 11AM, Jan 23 @ 7PM

Florida:
Ft. Lauderdale Cinema Paradiso TBD
Hollywood Cinema Paradiso TBD

Georgia:
Atlanta Plaza Theatre Jan 20 @ TBD(1/2/17)

Hawaii:
Honolulu Consolidated Ward with TITAN XC Jan 19 @ 8PM, Jan 22 @ 11AM
Kapolei Consolidated Kapolei Jan 19 @ 8PM, Jan 22 @ 11AM, Jan 23 @ 7PM

Iowa:
Cedar Falls College Square Jan 19 @ 8PM, Jan 21 @ 10AM, Jan 23 @ 7:30PM
Iowa City Sycamore Cinema Jan 19 @ 8PM, Jan 21 @ 10AM, Jan 23 @ 7:30PM
Cedar Rapids Cedar Rapids Galaxy 16 Cinema Jan 19 @ 8PM, Jan 21 @ 10AM, Jan 23 @ 7:30PM

Illinois:
Savoy Savoy 16 Jan 19 @ 8PM, Jan 23 @ 7PM, Jan 24 @ 7PM
Addison Addison Cinema Jan 19 @ 8PM, Jan 21 @ 10AM, Jan 23 @ 7:30PM
Gurnee Gurnee Mills Cinema Jan 19 @ 8PM, Jan 21 @ 10AM, Jan 23 @ 7:30PM
Chicago Heights Chicago Heights Cinema Jan 19 @ 8PM, Jan 21 @ 10AM, Jan 23 @ 7:30PM
Coutnry Club Hills Country Club Hills Cinema Jan 19 @ 8PM, Jan 21 @ 10AM, Jan 23 @ 7:30PM
Elgin Elgin Cinema Jan 19 @ 8PM, Jan 21 @ 10AM, Jan 23 @ 7:30PM
Orland Park Orland Park Cinemas Jan 19 @ 8PM, Jan 21 @ 10AM, Jan 23 @ 7:30PM
Bloomington Bloomington Galaxy 14 Cinema Jan 19 @ 8PM, Jan 21 @ 10AM, Jan 23 @ 7:30PM
O'Fallon O'Fallon 15 Cine Jan 19 @ 8PM, Jan 21 @ 10AM, Jan 23 @ 7:30PM

Indiana:
West Lafayette Wabash Landing 9 Jan 19 @ 8PM, Jan 23 @ 7PM, Jan 24 @ 7PM

Kansas:
Overland Park B&B Overland Park 16 TBD

Massachusetts:
Boston Brattle Theatre Jan 21-22 @ 1PM

Michigan:
Bloomfield The Maple Theater Jan 19 @ 8PM, Jan 23 @ 8PM

Minnesota:
Oakdale Oakdale Cinemas Jan 19 @ 8PM, Jan 21 @ 10AM, Jan 23 @ 7:30PM
Waite Park Parkwood Cinemas Jan 19 @ 8PM, Jan 21 @ 10AM, Jan 23 @ 7:30PM
Elk River Elk River Cinemas Jan 19 @ 8PM, Jan 21 @ 10AM, Jan 23 @ 7:30PM
Hermantown Lakes Cinemas Jan 19 @ 8PM, Jan 21 @ 10AM, Jan 23 @ 7:30PM
Rosemount Rosemount Cinemas Jan 19 @ 8PM, Jan 21 @ 10AM, Jan 23 @ 7:30PM
Rochester Rochester Garaxy14 Jan 19 @ 8PM, Jan 21 @ 10AM, Jan 23 @ 7:30PM

Missouri:
Lee Summit B&B Lee Summit 16 TBD
Sappington Ronnies 20 Cine Jan 19 @ 8PM, Jan 21 @ 10AM, Jan 23 @ 7:30PM
Cape Girardeau Cape West 14 Cine Jan 19 @ 8PM, Jan 21 @ 10AM, Jan 23 @ 7:30PM
Chesterfield Chesterfield Galaxy 14 Cine Jan 19 @ 8PM, Jan 21 @ 10AM, Jan 23 @ 7:30PM
St. Peters Mid Rivers 14 Jan 19 @ 8PM, Jan 21 @ 10AM, Jan 23 @ 7:30PM

North Carolina:
Raleigh Raleighwood Cinema Grill Jan 24 @ 8:30PM

North Dakota:
Fargo West Acres Cinema Jan 19 @ 8PM, Jan 21 @ 10AM, Jan 23 @ 7:30PM

Nebraska:
Omaha Alamo Drafthouse Cinema Omaha Jan 23 @ TBD (DUB), Jan 25 @ TBD (SUB)
Omaha Village Pointe Cinema Jan 19 @ 8PM, Jan 21 @ 10AM, Jan 23 @ 7:30PM
Omaha Majestic Cinema-Omaha Jan 19 @ 8PM, Jan 21 @ 10AM, Jan 23 @ 7:30PM
Bellevue Twin Creek Cinema Jan 19 @ 8PM, Jan 21 @ 10AM, Jan 23 @ 7:30PM
Lincoln Lincoln Grand Cinema Jan 19 @ 8PM, Jan 21 @ 10AM, Jan 23 @ 7:30PM

New Jersey:
Manville Reading Cinemas Manville 12 Plex Jan 19 @ 8PM, Jan 22 @ 11AM

New York:
Yonkers Alamo Drafthouse Cinema Yonkers Jan 22 @ TBD (SUB)
New York Village East Cinema Jan 19 @ 8PM, Jan 22 @ 11AM, Jan 23 @ 7PM
New York East 86 Street Cinema Jan 19 @ 8PM, Jan 21 @ 11AM

Ohio:
Columbus Gateway Film Center Jan 19 @ 8PM, Jan 21 -22 @ 4:30PM, Jan 25 @ 7PM
Cleveland Cedar Lee Theatre Jan 22 @ 7:30PM (DUB), Jan 25 @ 7:30PM (SUB)
Columbus Crosswoods Cinema Jan 19 @ 8PM, Jan 21 @ 10AM, Jan 23 @ 7:30PM
Pickerington Pickerington Cinemas Jan 19 @ 8PM, Jan 21 @ 10AM, Jan 23 @ 7:30PM

Oklahoma:
Broken Arrow Warren Theatre Jan 19 @ 8PM, Jan 20 @ 7PM, Jan 21 @ 4PM
Tulsa Circle Cinema TBD

Oregon:
Portland Hollywood Theater Jan 20 @ 7PM

Pennsylvania:
Pittsburgh Hollywood Theater Jan 21 @ 7PM, Jan 22 @ 4:30PM, Jan 24 @ 7PM

Tennessee:
Memphis Malco Theatres Paradiso TBD

Texas:
Houston Alamo Drafthouse Cinema Mason Park Jan 24 @ TBD (DUB), Jan 25 @ TBD (SUB)
Austin Alamo Drafthouse Cinema Austin Village Jan 24 @ TBD (SUB)
El Paso Alamo Drafthouse Cinema El Paso Jan 26 @ TBD (SUB)
Dallas Angelika Film Center & Cafe – Dallas Jan 19 @ 8PM, Jan 21 @ 11AM, Jan 23 @ 7PM
Plano Angelika Plano Jan 19 @ 8PM, Jan 22 @ 11AM

Virginia:
Fairfax Angelika Film Center & Cafe – Mosaic Jan 19 @ 8PM, Jan 22 @ 11AM, Jan 23 @ 7PM

Washington:
Seattle Grandillusion TBD

Wisconsin:
Appleton Appleton East Cinema Valley Grand Jan 19 @ 8PM, Jan 21 @ 10AM, Jan 23 @ 7:30PM
New Berlin Ridge Cinema Jan 19 @ 8PM, Jan 21 @ 10AM, Jan 23 @ 7:30PM
Ashwaubenon Bay Park Cinemas Jan 19 @ 8PM, Jan 21 @ 10AM, Jan 23 @ 7:30PM
Oshkosh Oshkosh Jan 19 @ 8PM, Jan 21 @ 10AM, Jan 23 @ 7:30PM
Sun Prarie Palace -Sun Prairie Jan 19 @ 8PM, Jan 21 @ 10AM, Jan 23 @ 7:30PM
LaCrosse LaCrosse Cinema Jan 19 @ 8PM, Jan 21 @ 10AM, Jan 23 @ 7:30PM
Brookfield Majestic Cinema- Brookfield Jan 19 @ 8PM, Jan 21 @ 10AM, Jan 23 @ 7:30PM
Sheboygan Sheboygan Jan 19 @ 8PM, Jan 21 @ 10AM, Jan 23 @ 7:30PM
Menomonee Falls Menomonee Falls Jan 19 @ 8PM, Jan 21 @ 10AM, Jan 23 @ 7:30PM
Mequon North Shore Cinemas Jan 19 @ 8PM, Jan 21 @ 10AM, Jan 23 @ 7:30PM
Torhschild Cedar Creek Cinema Jan 19 @ 8PM, Jan 21 @ 10AM, Jan 23 @ 7:30PM
Madison Point Cinemas Jan 19 @ 8PM, Jan 21 @ 10AM, Jan 23 @ 7:30PM
Sturtevant Renaissance Cinema Jan 19 @ 8PM, Jan 21 @ 10AM, Jan 23 @ 7:30PM
Oak Creek South Shore Cinemas Jan 19 @ 8PM, Jan 21 @ 10AM, Jan 23 @ 7:30PM
Possibly Related Posts