Here's a Sailor Moon News exclusive first look at the full script for the animated segments of the Toon Makers' Sailor Moon series pilot. This concept of a show, which never made it past the pilot stage, was a mix of live action and North American animation. It's often referred to as Saban Moon, Saban Sailor Moon or Fox Kids Sailor Moon. This script is for a voice-over session scheduled for May 11th 1994. The project was referred to as 'Project "Y"' possibly to hide the specifics of this being about Sailor Moon, which seems futile as the name is all over the script.
This script was included in an eBay auction which I won along with a couple of cels from the series. Photographs of 8 of the pages of the script were included in the auction listing though 14 were included in the full document.
As this is a voice-over script it mostly covers animated segments but also voice overs for the live action footage. There is a big hole in the story between pages 7 and 8. This is because this portion would be filled with live action footage which would not require a voice-over. What specifically happens during this time isn't clear but a large amount of time appears to have passed and all of a sudden all characters have begun acting like Earth teenagers when the originally had not been. The final two pages of the script included the "voice-over for live action". This is mostly Luna's lines. I inserted these two pages in the gap between pages 7 and 8 so that the narrative remained in order. It's unclear how much time passed between each of Luna's lines though individually numbered lines likely occurred as one piece of dialog. The lines may all have occurred within a single scene or throughout the entire episode for all we can tell.
Below you will find a complete transcription of the entire script. I have made an effort to preserve all formatting where applicable, which includes only two words that are lower case and a single italicized line. I will include scans of all 14 pages below this transcription. A number of hand written modifications to the original script occurred. I have only transcribed the original script. See the scans for all of the hand written details.
---
TOON MAKERS, INC.
VOICE-OVER SESSION MAY 11, 1994
PROJECT "Y"

NARRATOR(#1)
ONCE UPON ANOTHER TIME, ONCE UPON
ANOTHER PLACE, OUR SOLAR SYSTEM WAS
BESIEGED.
THERE WERE MANY WARS AND FIERCE
BATTLES. WICKED QUEEN BERYL AND HER
EVIL FORCES OF DARKNESS ATTACKED
GOOD PEOPLE EVERYWHERE.
SHE CAPTURED THE OUTER PLANETS OF
PLUTO, NEPTUNE, URANUS AND SATURN.
AND SEIZED THEIR JEWELS OF POWER.
THE PRINCESS WARRIORS RULED
MERCURY, VENUS, MARS, JUPITER AND THE
EARTH'S MOON.
TO BECOME ABSOLUTE RULER, QUEEN
BERYL MUST DEFEAT THE PRINCESS
WARRIORS AND OBTAIN THE REMAINING
COSMIC JEWELS OF POWER.
THE ROYAL FAMILIES OF THE FIVE INNER
PLANETS, LEAD BY THE BEAUTIFUL QUEEN
SERENITY, SOVEREIGN OF THE MOON…..
FORMED AN ALLIANCE TO DEFEAT QUEEN
BERYL, MAKING THE MOON THEIR CAPITOL.
PAGE # 1
---
TO AFFIRM THE NEW CONFEDERATION
QUEEN SERENITY ANNOUNCED THE
BETROTHAL OF HER ONLY DAUGHTER,
SAILOR MOON, TO DARIAN, PRINCE OF THE
EARTH.
A GREAT CELEBRATION WAS HELD ON THE
MOON TO HONOR THE MOMENTOUS
OCCASION.
SAILOR MOON WAS SURROUNDED BY HER
CLOSEST FRIENDS, THE PRINCESS
WARRIORS, SAILOR MARS, —-SAILOR
MERCURY,—-SAILOR VENUS,—–AND SAILOR
JUPITER.
SAILOR MOON WAS RESPLENDENT.
SAILOR MOON (#2)
(OBVIOUSLY IN LOVE)
OH DARIAN, I'VE SO LOOKED FORWARD TO
THIS DAY.
DARIAN (#3)
(IN LOVE)
AS HAVE I. AT LAST, WE WILL BE
TOGETHER.
NARRATOR (#4)
AS A TOKEN OF HIS LOVE, DARIAN PLACED
A STAR PENDANT AROUND SAILOR MOON'S
NECK AND PRESENTED HER WITH A SINGLE
ROSE.
PAGE #2
---
DARIAN (#5)
A SYMBOL OF MY EVERLASTING LOVE….
NARRATOR (#6)
A CHILLING BREEZE SWEPT THE ROSE
FROM HIS HAND AND THE SKY SUDDENLY
DARKENED.—EVERYONE TURNED IN FEAR.
DARIAN(#7)
IT'S A SOLAR ECLIPSE!
NARRATOR(#8)
SUDDENLY THE DARK GALLEON OF QUEEN
BERYL APPEARED ON THE HORIZON AS HER
FORCES DESCENDED ON THE GATHERING
IN A BRUTAL ASSAULT.
QUEEN SERENITY (#9)
IT'S BERYL!!!
SAILOR JUPITER (#10)
THE EVIL BEAST HAS FOUND US!!
SAILOR MOON (#11)
QUICKLY, EVERYONE TO THE GALLEON!!
QUEEN SERENITY(#12)
SHE MUST NOT GET THE JEWELS!!!
PAGE #3
---
QUEEN BERYL (#13)
OUR TIME IS FINALLY AT HAND. GO MY
DARK MINIONS. BRING ME THE JEWELS OF
POWER!!
NOW THE DARKNESS SHALL HAVE
DOMINION. THE SOLAR SYSTEM IS MINE!!
BEHOLD QUEEN BERYL, AND DESPAIR!!
DESTROY THEM ALL, BUT BRING ME THE
JEWELS AT ALL COST!!!
DARIAN (#14)
WE MUST STOP THEM!!
SAILOR MOON (#15)
PRINCESSES—TO YOUR SKY FLYERS!!——-
—–DARIAN!! BEHIND YOU!!!!——
—-THERE'S TOO MANY OF THEM!! WE
MUST RETREAT!!!
DARIAN (#16)
NEVER!!!!
SAILOR MOON (#17)
THE ROYAL FAMILIES MUST BE SAVED!!!—–
—IT'S UP TO YOU TO PILOT THE GALLEON!!
PAGE #4
---
DARIAN (#8)
I CAN'T LEAVE YOU NOW !!
SAILOR MOON (#19)
THERE'S NO TIME TO ARGUE. YOU MUST
SAVE AS MANY AS YOU CAN!
NARRATOR (#20)
AS DARIAN RUN TO THE GALLEON, SAILOR
MOON REALIZES HER MOTHER, QUEEN
SERENITY, HAS BEEN LEFT UNGUARDED.
LEAPING ONTO HER SKYFLYER, SHE
SPEEDS TO HER SIDE.
QUEEN SERENITY (#21)
THE COSMIC JEWELS MUST NOT FALL INTO
THE HANDS OF BERYL.
QUICKLY, TAKE THE JEWELS!
YOU AND THE OTHER PRINCESSES MUST
ESCAPE WITH DARIAN TO EARTH.
SAILOR MOON (#22)
BUT MOTHER, HOW CAN I——
QUEEN SERENITY (#23)
THERE'S NO TIME—–
YOU PRINCESSES NOW POSSESS THE
MOST POWERFUL PENDANTS IN THE
UNIVERSE. GUARD THEM WITH YOUR
LIVES!
—-YOU MUST GO NOW. ESCAPE INTO THE
VORTEX. BERYL CANNOT FOLLOW.
PAGE #5
---
—-THERE YOU CAN HIDE IN A DIFFERENT
DIMENSION. —-BUT THERE'S NO TIME TO
EXPLAIN!
—I WILL FIND A WAY TO COMMUNICATE
WITH YOU, BUT YOU MUST LEAVE NOW.
NARRATOR (#24)
AS DARIAN HEADS FOR THE VORTEX,
BERYLS SHIP BEGINS ITS ATTACK ON THE
GALLEON.
SAILOR MOON (#25)
—WE MUST REACH THE GALLEON BEFORE
IT'S TOO LATE.
—–WATCH OUT!!!!
—-KEEP THEM BACK!!!
SAILOR VENUS (#26)
THERE'S TOO MANY OF THEM!!!
SAILOR JUPITER (#27)
Beryl's SHIP IS GETTING TOO CLOSE. THE
VORTEX IS OUR ONLY HOPE!!
SAILOR MERCURY (#28)
LOOK OUT!!!
PAGE #6
---
SAILOR MOON (#29)
(REACTING TO DARIAN'S APPARENT DEATH)
NO! NO!, NOOOOOO!!!!
SAILOR MARS (#30)
(WITH RESOLVE)
WE MUST SAVE THE JEWELS!!
QUEEN BERYL (#31)
BLAST YOU URSUS! WE ALMOST HAVE
THEM. FASTER!!! FASTER!!!!
URSUS (#32)
YOUR HIGHNESS, THE VORTEX IS NEAR.
BERYL (#33)
ACCURSED VORTEX!!
(WITH RESIGNATION)
ALRIGHT THEN,—- VEER THE SHIP AWAY.
SAILOR MOON (#34)
(TO AVENGE DARIAN'S DEATH)
TO THE VORTEX!! ——
——- AND BEYOND OBLIVION!!
PAGE #7
---
VOICE-OVER FOR LIVE ACTION
LUNA (#65)
(FLYS THROUGH AIR)
WHOA!!
(LANDS ON FLOOR)
THERE GOES ONE OF MY NINE LIVES!
(REACTING TO GIRLS ACTIONS)
VARIOUS: DEADPAN, ANNOYED, SNOOTY
(#66)
—-GIRLS!
(#67)
———–QUEEN BERYL IS ATTACKING THE
PEOPLE OF PLANET JUPITER. THEY NEED
YOUR HELP!!!!
PAGE #13
---
LIVE ACTION MORPH SEQUENCE
SAILOR MOON (#68)
(CALLING THEM TO ACTION)
SAILOR MERCURY!!
SAILOR VENUS!!!
SAILOR MARS!!
SAILOR JUPITER!!
---
SECOND HALF—-ANIMATION VOICE-OVER
NARRATOR (#35)
THE PRINCES WARRIORS SAIL TO THE
PLANET JUPITER ON THEIR SKYFLYERS TO
DO BATTLE WITH QUEEN BERYL'S DARK
FORCES.
SAILOR JUPITER (#36)
THERE IT IS, THE CITADEL. IF BERYL HAS
HURT ANY OF MY PEOPLE, I WILL—-
SAILOR MOON (#37)
TIME FOR THAT LATER. HOW DO WE GET
IN?
SAILOR JUPITER (#38)
THERE'S A SECRET ENTRANCE. FOLLOW
ME.
NARRATOR (#39)
THE PRINCESSES CAUSTIOUSLY MADE
THEIR WAY INTO THE UPPER CHAMBERS OF
THE CITADEL–
–WHERE THEY ARE DISCOVERED AND
QUICKLY SURROUNDED. —– BUT QUEEN
BERYL'S FORCES WERE IN FOR A
SURPRISE.
SAILOR MOON (#40)
ALRIGHT EVERYONE, LOOK SHARP.—-
—VENUS!
PAGE #8
---
SAILOR VENUS (#41)
SO THIS IS WHAT I MISSED THE DANCE
FOR? YOU GUYS ARE IN FOR IT. AND IF I
BREAK A NAIL, YOU'RE REALLY IN FOR IT.
SAILOR MERCURY (#42)
WHY DON'T WE HAVE A PARTY RIGHT
HERE?!!!
SAILOR MARS (#43)
SOUNDS GOOD TO ME. BUT I THINK THESE
GUYS ARE TOO OUT OF SHAPE TO DANCE.
WHY DON'T WE BURN OFF A FEW POUNDS.
SAILOR JUPITER (#44)
(LIKE MR. ROGERS, COMEDIC)
CAN ANY OF YOU UGLY CRETINS SAY
"ELECTRICITY"
BEN FRANKLIN BELIEVED IT COULD BE
TRANSMITTED RIGHT THROUGH AIR—-
—-HE WAS RIGHT!!
SAILOR MERCURY (#45)
GANG WAY FOR THE ORIGINAL PARTY GIRL!
—-OH, I LIKE YOUR STYLE.
—-LET ME TEACH YOU A NEW STEP.
PAGE #9
---
SAILOR MOON (#46)
GEE, SOME PEOPLE JUST DON'T KNOW
HOW TO HAVE FUN. NICE WORK LADIES.
—-UH, OH —SPREAD OUT!!
—-WAIT FOR MY SIGNAL.
—-MERCURY, WAIT!!
SAILOR MERCURY (#47)
THIS CREEP IS MINE.
—-TAKE THAT TALL DARK AND GRUESOME.
ALL SAILORS (#48)
WATCH OUT!!
SAILOR MERCURY (#49)
—-AAHHH!
SAILOR MOON (#50)
MAKE SURE SHE'S ALL RIGHT!!
SAILOR VENUS (#51)
YOU CAN'T FIGHT HIM ALONE!!
PAGE #10
---
SAILOR MOON (#52)
HELP HER!!!
SAILOR VENUS (#53)
(TO MERCURY)
ARE YOU ALRIGHT?!!
SAILOR MERCURY (#54)
HEY, SOMEBODY ANSWER THAT PHONE.
SAILOR MOON (#55)
OKAY, COME ON—JUST ME AND YOU!
—THIS ONE IS POWERFUL!—-
—-AHH. TRY AGAIN!—-
Mustn't QUIT.
SAILOR MARS (#56)
MOON IS HURT!!
SAILOR MOON (#57)
(SHE KNOWS IT'S FROM DARIAN)
A ROSE??
SAILOR MERCURY (#58)
LOOK!!
SAILOR JUPITER (#59)
WHO CAN IT BE??
PAGE#11
---
SAILOR MOON (#60)
(SHE THROWS FRISBEE)
THIS IS WHERE IT ENDS!
SAILOR VENUS (#61)
THE ROSE!! IT'S FADING!!
SAILOR MERCURY (#62)
LOOK, HE'S GONE!!
SAILOR MARS(#63)
I WONDER WHO HE WAS?—-
SAILOR MOON (#64)
(SHE KNOWS)
I DON'T KNOW. I JUST DON'T KNOW.
PAGE #12
---
Note that when the pages were stapled together pages 6 and 7 were reversed, making the order 1, 2, 3, 4, 5, 7, 6, 8 … although all indication seems to insinuate this was a mistake and that the pages were meant to be in proper numerical order. Because of this I have posted these in their correct numerical sequence, with pages 13 and 14 placed where the live action footage goes. Purists may feel free to read them out of order for thoroughly confusing authenticity…
Here are scans of all of the pages. To see these files in their highest resolution click on the thumbnail and then on the 1000xHHHH link on the next page.
Acquiring this script was not cheap and scanning and transcribing it was a lengthy process. I have not placed any watermarks on these images and I don't mind if they are shared elsewhere but please provide a link back to this site if you post them online.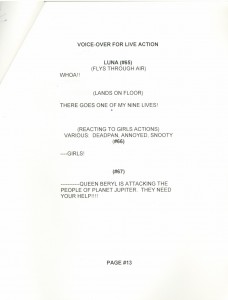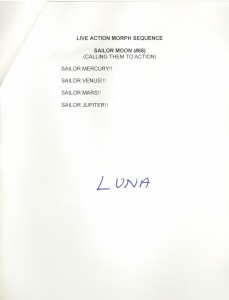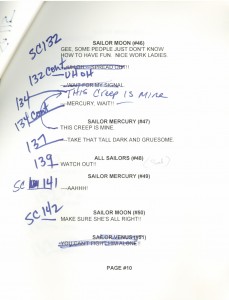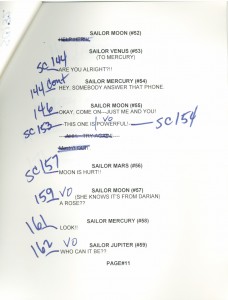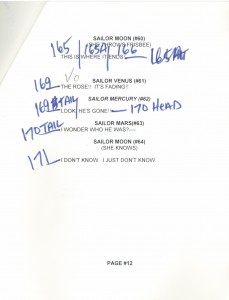 Some thoughts on this script…
While it previously seemed as if this was only the voice-over script for the opening scene, now that we see this in it's entirety it seems more apparent that this is the script for all animated and voice over segments for the entire episode.
Darian mentions there's a solar eclipse. They're on the Moon. If the Earth experienced a solar eclipse then an observer on the Moon would actually see only a shadow on the Earth's surface. He may have also meant that the Earth was obscuring the Sun. This happens quite often, and it means that an observer on the Earth is seeing a Lunar eclipse. This kind of eclipse would have the observer on the Moon seeing the Sun blocked out for considerably longer than the Moon blocks the Sun during a solar eclipse.
Sailor Mercury, who is in a wheelchair, makes a reference to teaching the enemy a "new step". She is apparently a paraplegic who is well versed in dancing…
Darian has clearly survived his death given Sailor Moon's reaction to the rose. Why Sailor Moon choses to lie about the identity of Tuxedo Mask is unclear. It stands to reason that the man she sees is wearing some sort of Tuxedo Mask uniform, though we have still not seen any such images.
Moon Tiara Action is referred to as a "frisbee" a description fitting of the disc that is produced when Sailor Moon does this attack.
It really isn't clear how much time passes between the two animated segments, but so much behavioural change has occurred. Was there a full reincarnation and aging to teenaged years that occurred or did the girls simply adapt to high school life after arriving? Is there a different flow to time between the dimensions? Beryl was nearing Jupiter when the girls left and is still there when they return.
I think we're all still hoping to see the full pilot at some point. Until then this script will have to do. It stands to reason that the final product was closer to the script including the changes written in marker, but we may not be able to verify this for some time.
For now there are a ton of Toon Makers' Sailor Moon cels on eBay with more added every few days. Keep checking them out and as always we'll let you know of any significant new images that pop up.
If any fans take it upon themselves to do a dramatic reading of this, please do let us know about it and we'll share it on the site.
Possibly Related Posts