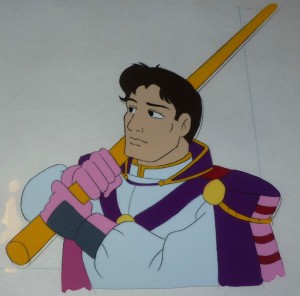 More and more auctions for cels from the Toon Makers' Sailor Moon series have been popping up on eBay. I just wanted to share a few that stood out. The Toon Makers' Sailor Moon series, known as Saban Moon or Fox Kids Sailor Moon, was a concept for a show, only ever developed as a pilot, which combined live action footage and North American animation.
Most notable in the new cels is that we can finally see the face of Darian, also known as Tuxedo Mask. This version of Darian is not decked out in a Tuxedo and Mask, something he may or may not eventually do. Many have remarked his similarity to a Disney Prince. His way of dressing is pretty ridiculous, but based on the voice-over script which we posted a transcript of, this is likely Darian from the past, before the "Princess Warriors" went to Earth to live as normal girls. I believe in his later appearances he would be dressed in a Tuxedo and Mask, but no images of that have been seen to date.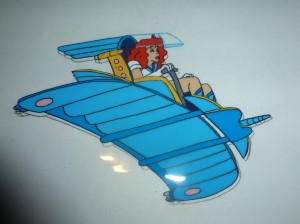 We also get a look at Sailor Mercury's wheel chair! The live action version of Sailor Mercury, and one of her friends, is bound to a wheel chair. While the Princess Warriors fly around space in their Sky Flyers, Sailor Mercury has a flying wheel chair as she appears to be unable to walk even in Princess Warrior form. In addition to seeing Sailor Mercury in this chair we also get a better look at a few of the Princess Warriors on their own Sky Flyers.
Some other cels also give us a full look at the individual Princess Warriors Sailor Venus, Sailor Mars and Sailor Jupiter, as we see them standing and walking around. This gives us a look at their feet and foot wear. Fans should have no problem making accurate fan art and cosplay from now on!
We also get an interesting look at Queen Beryl's Dark Galleon which she's actually riding giving us a good idea of scale. In this very small first look at Beryl's full body and costume we see that she is weilding some kind of staff or sceptre.
A lot of Toon Makers' Sailor Moon cels are still for sale on eBay. The two sellers who currently have items for sale are vintagejunkster and kittyandcharlie. I've bought and received cels from both sellers and have been quite happy with my purchases and the transactions in general so I would recommend picking something up from either of them. Cels are selling in a wide variety of prices which should make them accessible to any fan looking to have a little piece of this obscure chapter in Sailor Moon history as a part of their collection.
I plan on getting better scans of those cels which I've purchased online. I'm still working on getting all of them processed before I can get some better pictures posted but rest assured that will come. For now I'm still working out getting some cels unstuck from their sketches and other paper before they're in a good state to scan or photograph.
Possibly Related Posts