A lot more new cels from the Toon Makers' Sailor Moon show have surfaced on ebay. This show which was only ever made into a single episode pilot and has only been seen in this short clip, is infamous amongst fans.
We now have a great look at Queen Beryl's ship from the Toon Makers' Sailor Moon show. Ever know Queen Beryl was in the show? Ever know she had a ship? It can be seen in this Toon Makers' Sailor Moon cel auction. Here we have a look at "The Dark Galleon" which is Queen Beryl's nasty looking ship previously seen only briefly in the online clip when it shoots a laser at another ship, destroying it. We know this name because in the script we talked about yesterday the Dark Galleon was mentioned as being Queen Beryl's ship (it's on page 3…).
SUDDENLY THE DARK GALLEON OF QUEEN BERYL APPEARED ON THE HORIZON AS HER FORCES DESCENDED ON THE GATHERING IN A BRUTAL ASSAULT.
What a cool looking ship! One sketch included in this auction even mentions "CHANGE ALL HEADS TO THIS". What heads? Maybe there were other sketches with different or no heads? Maybe some other object has … multiple heads? Who knows! The auction also comes with other cels and refers to the show as "Project Y", a name that also appeared on the script.
Many other auctions have popped up in the last few days. Some auctions are by kittyandcharlie, the same ebay seller mentioned earlier. This includes the Dark Galleon cel we just mentioned. Others, such as this one, which show Sailor Moon standing diagonally are selling for just $49.99, a far more reasonable price than the cels posted earlier. Browse kittyandcharlie's Sailor Moon auctions to see all cels sold by this seller.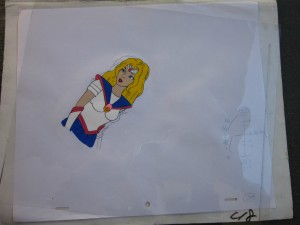 A different ebay seller, vintagejunkster, has also started to sell some Sailor Moon cels. All of these cels feature Sailor Moon herself and are selling for $79.99 a piece. At this price fans have starting buying these up so if you're interested check out vintage junkster's Sailor Moon auctions to find all of these cels. These include shots of Sailor Moon using her tiara and wearing her Star Pendant.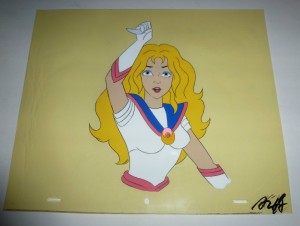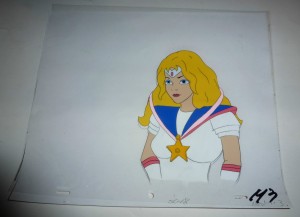 With news cels from this show popping up many times this week we can probably expect more great finds in the coming days. Keep your eyes on ebay for more. We'll be sure to share anything interesting that pops up.
Possibly Related Posts